Related Softwares Article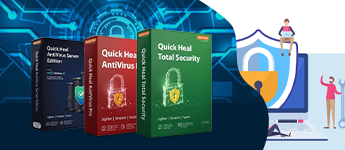 Keep cybercriminals at bay with antivirus software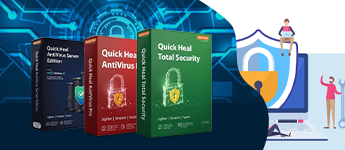 Enjoy safe browsing with advanced antivirus software brands
Buy Internet Security Software from Moglix at special discounts
---
In a world where there is a high level of hacking and leakage of personal information, one needs to be extremely careful while surfing the net or downloading data onto your device. Antivirus and security software is designed for protection online. Moglix offers a wide selection when it comes to antivirus software and security software for a reasonable rate.
Difference between Antivirus software and internet security software
---
Antivirus software, also known as anti-malware is a type of computer programming used to detect, prevent and remove malware or computer viruses. It works as an antivirus protection program. However, some of the best security software does not play the role of computer antivirus but also provides:
--> A firewall to avoid unwanted network connections,


--> Parental controls to block certain sites,


--> Features to configure user access control, and


--> VPN to keep online privacy intact.


Internet security software is comparatively more expensive than an antivirus. Also, you may find paid and free services for antivirus protection software whereas security software is not free of cost.
Basic things to consider before buying software online
---
Price and Brand- Numerous brands offer software with specialized features. Choose a reputed brand that offers the software at reasonable rates.
Email scanning- The best software has this feature of email scanning hacking can also take place through spam mails. This feature gives a prior warning in case the mail has any virus.
Download protection- While downloading stuff off the net, a file may or may not contain dangerous elements. Scanning for viruses before downloading the file is very important.
Spyware or Malware scans- Spyware and malware are programs that can cause harm and even steal your personal information. Ensure that your software is equipped with such a scanner to protect your device from hidden threats.
Speed- There are options where you can "quick scan" or "speedy scan" your file in case you run short of time. However, it may not be as thorough as a full scan.
Compatibility- This is one of the most important things to consider while buying software. There are many versions of antivirus programs, so one must pay attention to the exact operating system of your device, may it be Windows or Mac.
Privacy policy- One thing most people overlook is the privacy policy. After all, computer antivirus programs are designed to protect your information. So, there is no question of the software itself sharing information. However, certain manufactures do share some details that you provide. Read the privacy policies carefully before choosing your software.
Free trial- Certain companies offer a free trial period where you can try the software before purchasing it. But certain companies do not give you full access. Choose the company that gives you a free trial with full access. This transparency means that they are worth the price and ensures customer satisfaction.
What makes Moglix the best online platform to buy software?
---
As a leading online marketplace, Moglix promises to deliver trusted software at an attractive price with a special discount. Moglix offers software from popular brands like Quick Heal, Eset, Escan, Kaspersky, K7, Npav, and Guardian. Buy now and save loads of money on amazing deals.
Softwares - Price Range
This data was last updated on 10/5/22.