Safety Helmets Buying Guide
What are Safety Helmets?
Safety helmetsare a type of headgear which are worn by workers who are engaged in industrial or construction sites in order to protect the head from injuries which are caused by falling objects, debris, rain, electric shock etc. People who are involved in industries such as real estate, petrochemicals and logisticsare exposed to these dangers on a regular basis. The safety helmets that are used in factory settings these days come with a brushed cloth on foam and cross ventilation systems. The triple configuration shells of the helmets ensure that they have a high impact resistant capacity. Created from specially formulated polymers, they can be used for years together.
What Are the Different Types of Safety Helmets?
The different types of safety helmets are categorised according to their area of application. Some of them are mentioned below: -
White helmets are worn by engineers, supervisors, foremen and managers
Professionals who are engaged in welding and high heat applications normally wear brow fiberglass coloured safety helmets
Green coloured helmets are normally worn by safety inspectors and new workers
Labourers and earth-moving operators wear yellow coloured helmets
Blue coloured helmets are worn by carpenters and technical advisers
Orange coloured helmets are worn by road crews, visitors or new employees
A person's brain can be seriously injured by impact or through the head's violent rotation of the head while the brain remains still, causing a jerk to nerves and blood vessels. Internal blood vessels and nerves jerk various parts of the brain as well, thereby causing a lot of strain to vessels and nerves. Safety helmets are designed in order to handle major crash energy which contains a crushable foam layer.
Once the user crashes and hits a hard surface, that part of the helmet crushes, checking the crash energy and extending the wearer's head's stopping time by around six thousandths of a second (6 ms) to minimise peak impact to the brain. Internal strains and rotational forces are likely to be minimised by crushing.
Safety helmets are usually of three types- Class A, Class B, and Class C.
Class A helmets offer users with impact and penetration resistance apart from limited voltage protection (up to 2200 volts).
Class B helmets offer the best quality of protection against electrical hazards with high-voltage shock and burn protection. They also protect users from impact and penetration hazards caused by flying/falling objects.
The class C helmets on the other hand offer lightweight comfort and impact protection. However, they cannot check electrical hazards. Given below are some of the different types of safety helmets that have gained popularity in recent times: -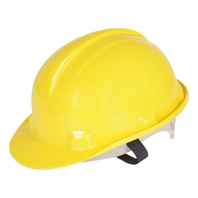 Nape Helmets- The inner shell of this type of helmets is normally made from plastic. These helmets are often used in mines and are equipped with a comfortable strap. They have a bright, shining surface.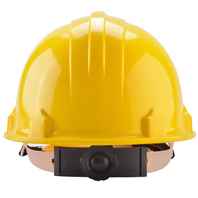 Ratchet Helmets- The head band of these helmets is created from soft, on irritant fabric to offer a high level of comfort to the user. Universal adjustment is ensured by the adjustable chin strap. The shell's triple corrugation guarantees a high level of impact resistance.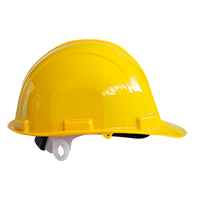 Without Ratchet Helmets-These helmets are electrically insulated as per EN50365 for working in low voltage environments. They are ideal for use in temperatures which range from -30℃ to +150℃.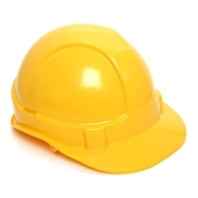 Safety Helmet, Explorer I- Created from UV-resistant ABS material, this helmet has good absorption and can resist high impact. This safety helmet is mainly available in ratchet adjustment, tape and plastic suspension lining harness. You can detach the harness easily. The helmet fits users with the head size between 53 cm and 66 cm.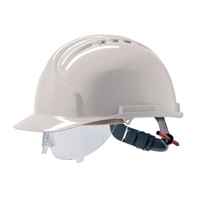 Industrial Helmet- These helmets come with a slide lock system which makes them easy to use.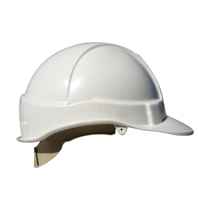 Safety Helmet, HM2- These type of safety helmets are light, comfortable and offer users with a satisfactory quality of ventilation. Their hard shell has been created UV-resistant ABS or HDPE materials which are good absorbers and resists high impact effectively.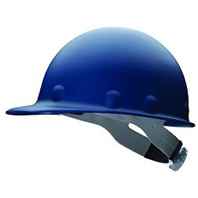 Fibre Glass Safety Helmet- The safety helmets of this type offer wearers with a high level of comfort and functionality. They keep the wearer's head safe from direct impact and penetration caused by falling or flying objects.
Where Are Safety Helmets Used?
Safety helmets are used across a wide range of industries such as real estate, oil & gas, iron, steel, metallurgy etc
The safety helmets that are produced in India adhere to all the specifications that are mentioned by the Bureau of Indian Standards. At present, it has become mandatory for business owners in many countries to equip their workers with safety helmets. It is important to maintain the receipts of safety helmets
Proper training to workers can help them to avert situations which could lead to head injuries. During training, workers come to know about the preventive measures for head injury, the importance of safety helmets, use of accessories and their attachment methods, care and maintenance
The use of safety helmets with chin straps is essential for people who are exposed to windy conditions or require bending frequently. Safety helmets need to be worn in a precise manner. During the summer, some industrial workers wear straw hats in between their head and safety helmets so as to minimise sunlight exposure. However, doing so will greatly reduce the protection level of safety helmets
How to Select Safety Helmets?
Safety helmets are of paramount importance for industrial workers across all domains. Therefore, buyers need to have a clear perception of all important factors that are related to safety helmets so that they can ascertain the quality of the product and take a wise buying decision. As per the EN 397: 1995 and EN 14052:2005 standards of safety helmets need to comply with a number of factors. Some of them are mentioned below: -
Resistance to flame
Resistance to penetration
Shock absorption
Geometrical structural parameters
Materials utilised for shell production and interior equipment
Special purpose helmets need to comply with additional requirements related to:
Dielectric properties
Breaking strength of the attachment points of the chinstrap
Resistance to high temperatures
Resistance to lateral forces
Resistance to molten metal splash
Presence of other hazards (e.g. electric shock, high temperature): -
At industrial settings in which there are risks related to electric shocks, helmets with dielectric strength. The labelling on helmets in these cases will be 440Vac.
In industrial setting where workers are vulnerable to the impact of melted metal fragments, helmets which are resistant to such an impact will be used. The labelling on the helmet will be MM.
In areas where there are risks of lateral deformation of the head, helmets with LD labelling which are resistant to this hazard need to be used.
In areas where workers need to put in a lot of physical effort at high ambient temperature, leading to excessive sweating, workers need to use a helmet with good ventilation.
At workplaces that are exposed to the dangers of explosions, helmets with anti- electrostatic properties need to be used.
Helmets which are either too large or too small in size are not ideal for industrial use. They need to fit the head size of the user properly. Majority of the protective headgear which you will come across are available in different sizes with adjustable headbands to make ensure a comfortable fitting. A helmet with a proper fitting will let ample clearance between the suspension system and shell for impact distribution and ventilation.
The helmet should bind, slip, fall off or cause skin irritation. Some types of protective headgear enable industrial workers to utilise different accessories like safety glasses, earmuffs and face shields to help employees deal with changing weather conditions. A number of helmets also include channels that draw rainwater away from the face.
How to Maintain Safety Helmets?
A helmet's durability can be extended through periodic cleaning and inspection. You need to check the shell, suspension system and other parts of your helmet for holes, cracks, tears or other types of damages which can have a serious impact on the hat's protective value. Paints and cleaning agents might weaken the shell of your helmet and also cause the elimination of electrical resistance.
One wise thing that you can do is to get in touch with the helmet manufacturer to acquire details on the effects of paint and cleaning materials on their products. Avoid drilling holes, applying labels or paints to protective headgear since this will have a negative impact on their protection.
The helmet should also be kept away from direct sunlight as sunlight and extreme heat can cause considerable damage. In case the helmet which you have been using has problems such as cracking, perforation or deformity in its shell or brim the you will need to replace them.
Other issues that may force you to replace the helmet includes sign of exposure of the shell or brim to UV light, chemicals or heat. A helmet which suffers an impact needs to be replaced, even if the damage isn't easily visible to the naked eye. Suspension systems are sold as replacement parts and need to be changed when there is excessive wear or damage. You don't need to replace the whole helmet if there is an issue with its suspension systems
Why Buy Safety Helmets from Moglix?
At Moglix, we deal in all types of safety helmets online that are used across industries such as real estate, oil & gas, logistics, steel, iron, metallurgy, constructions, petrochemicals etc. We have created a vast supplier base across India and overseas to cater to the needs of our buyers who include both business owners as well as industrial workers. The products which we are offering in this range have been sourced from brands such as Karam, 3M, Safari Pro, Safari etc.
The price of the safety helmets has been kept within a wide range to suit the budget of our buyers who come from different backgrounds. These helmets are available in different sizes and colours to meet the needs of our customer base. We also deal in safety shoes, safety jackets, hearing protections, fall protection, safety goggles, safety gloves etc. as a part of our safety category which are also essential for industrial use. The helmets that we have on offer are available with lucrative discounts. Boost your safety todays with safety helmets from Moglix!