Shop More by
Related Brush Cutters Article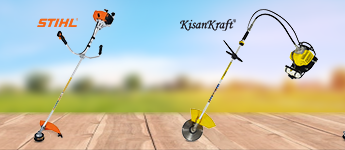 Best Brands of Brush Cutters Available in India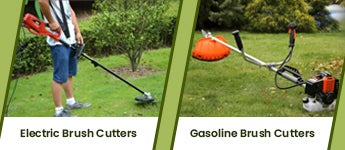 Brush Cutters To Clear All Weeds
Select Brush Cutters Online For Proper Garden Maintenance
---
The brush cutters are a type of gardening tools which is used for clearing grass, small bushes and shrubs. To help gardeners & gardening enthusiasts maintain their gardens in a perfect manner, we have sourced the newest range of brush cutters. Available in a wide variety of designs and sizes, our brush cutters have been sourced from brands such as Makita, Green Kraft, Xtra Power etc. The brush cutter machine collections we offer as a part of this collection are highly compact & portable. Therefore, they can be used in different parts of gardens. Enhance the look of your garden overnight using the newest models of brush cutters.
Leading Brands of Brush Cutters Available Online At Moglix
---
At Moglix, we offer some of the leading brands in the Indian market. Some of them are mentioned below:-
Makita - The Makita brush cutters which we offer as a part of our collection are equipped with MM4 4 stroke engine and have an ergonomic handle which makes maneuvering to be done easily. They are compliant with all environmental standards and are equipped with a comfortable shoulder harness with a waist belt and double shoulder straps.
Pro Tools - Our range of Pro Tools brush cutters are equipped with an adjustable handle height, adjustable auxiliary handle and are flexible for usage in all directions. Therefore, they can be handled with a high level of convenience by users. The presence of a powerful engine makes these brush cutters suitable for cutting the grass of varying lengths with a high level of precision. Some of these cutters are equipped with a double shoulder strap which ensures that the user doesn't suffer from a high level of hand fatigue.
STIHL - The STIHL Brush Cutters which form a part of our collection operate using petrol and have two strokes. They operate without producing a high level noise and can be used for cutting weed, grass and tree branches with a high level of efficiency.
We have sourced these brush cutters for sale keeping in touch with the changing needs of buyers. The products sourced by us are compliant with all existing quality standards in the industry. Therefore, they can be used for a variety of purposes.
Choose From the Exciting Range Of Brush Cutters Moglix Has On Offer
---
As in the case of interior decor, gardening is an art in itself. Therefore, to meet up with the expectations of buyers, we have come up with an exciting collection of brush cutters such as petrol brush cutters, electric brush cutters, etc. Our range includes models which are equipped with a professional bike handle with an acceleration control trigger. The presence of the tri arc blade with double line bump head & quick-release shoulder strap makes them highly convenient to use. A high recoil starting system makes these brush cutters a convenient option both for professional gardeners as well as home-based users.
Why Buy Brush Cutters from Moglix?
---
At Moglix, we highly appreciate the time spent by people in maintaining their gardens. To simplify the buying process of brush cutters for them, we have segmented our category on the basis of price, brand, etc. The presence of specifications in each model simplifies the product selection process for buyers. This season, transform your garden using the newest range of brush cutters we have on offer.
Frequently Asked Questions about Brush Cutters
---
Can we convert a brush cutter into a pruner?
No, you cannot convert a brush cutter into a pruner.
Can a brush cutter cut paddy?
Yes, a brush cutter can be used to cut paddy.
What's the best lawn mower for home use?
You can choose the right lawn mower depending upon the usage & specifications and your requirements.
How to maintain a brush cutter?
Firstly, you must drain the fuel tank before cleaning the cutter. Remove and examine the spark plug thoroughly. Clean or replace (if needed) the plug before storing the machine. Next, remove and clean the metal cutting blade, check for damages and any signs of corrosion. Store the brush cutter in the hanging up position. This position saves space.
Brush Cutters - Price Range
This data was last updated on 8/17/22.