Related Sprayers Article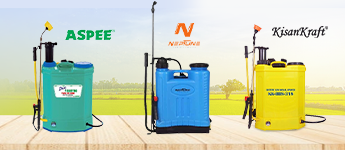 Best Brands of Sprayers Available in India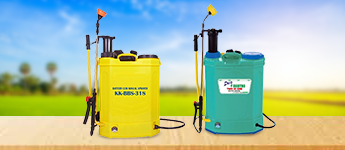 Everything You Need to Know About Sprayers
Buy the Newest Range Of Agricultural & Garden Sprayers Online
Nurturing flowers & trees is a highly time-consuming task. To help gardeners & gardening enthusiasts maintain their lawns in a flawless manner, Moglix has sourced the newest range of agricultural & garden sprayers to meet up with the needs of gardeners. The sprayers which we have on offer have been procured from some of the leading brands in the market such as Flora Concorde, Rutland, Best Sprayers, Gardena, Cheston, Makita, FERM, Everest, Ketsy, Lotus, Spanco etc. These sprays can also be used for washing vehicles. They can be rotated shower, mist, center, stream, vertical, flat and full.
Available in a wide range of designs and sizes, these gardening sprays are compliant with existing quality benchmarks in the industry. Therefore, these sprayers can be used on a regular basis within gardens, agricultural, parks & lawns.
Leading Brands of Garden Sprayers Offered By Moglix
At Moglix, we deal in a wide range of garden sprayers from leading brands in the Indian market. Some of them are mentioned below: -
Best Sprayers - The Best sprayers which are available at Moglix are highly suited for usage in spraying pesticides, insecticides, fungicides, herbicides etc. The Knapsack sprayer range which forms a part of this collection are ideal for usage in field areas to protect crops from pest attacks. They are suitable for usage in numerous applications such as sericulture, horticulture, agriculture, forestry, gardens, plantations etc. They are battery operated and are highly effective for usage as pesticide sprayers.
Flora Concorde Sprayers - The Flora Concorde sprayers sourced by us has been manufactured using the best quality of plastic. They are easy to install and use. The sprayers which we have on offer as a part of this collection are effective for usage in farms of varying sizes, tea gardens, and vegetables. They require a minimal level of maintenance and therefore can be used over a considerable period of time.
Rutland Sprayers-The spray guns from Rutland which we offer as a part of our collection are equipped with a locking trigger and snap action connector. These models garden sprayers include six spray patterns such as shower, center, stream, flat, mist and full.
We also deal in outdoor & garden sprayers from brands such as Bellota, Falcon, KBI, Cheston, Everest, Gardena, Ketsy etc. The products which have been sourced us undergo a number of quality tests before being dispatched for delivery. We also deal in other types of gardening tools such as brush cutters, hedge trimmers, shovels etc.
The price of garden spray guns and other products has been kept within a wide range to meet up with the expectations of buyers. Therefore, you can acquire favorable deals on the products of your choice.
Avail Great Deals on Spray Guns Offered By Moglix
At Moglix, we offer a wide range of gardening tools such as water spray guns, sprayer pumps, spray nozzles, hose connectors, Air blowers etc. We have added all details related to specifications, prices, and discounts. Therefore, buyers can acquire all the information they are looking for and take a final decision. This spring, make the flowers of your garden bloom using spray guns offered by Moglix.
What Makes Moglix A Good Place for Buying Garden Spray?
A smooth buying experience is something which all buyers look forward to while buying gardening tools online. At Moglix, we aim to sell not just a product but an experience which makes buyers ask for more. To do, we regularly update our category with new products on a regular basis. To make the delivery process an efficient one, we have tied up with eminent logistics companies. Come; experience a unique buying experience worth remembering using spray guns.
Frequently Asked Questions about Sprayers
---
What is a boom sprayer used for?
They are used for spraying small farm plots, rolling pasture land, large multi-acreage crop fields & more. Boom sprayers are simple in design and feature nozzle-equipped sprayer arms that gets attached to a tractor or vehicle with span reaches up to 30 feet.
Sprayers - Price Range
This data was last updated on 5/24/22.