Shop More by
Brand Category
Havels Exhaust Fan

Havels Table Fan

Havels Cooling Fan

Havels Axial Fan

Havels Pedestal Fan
Related Room Heaters Article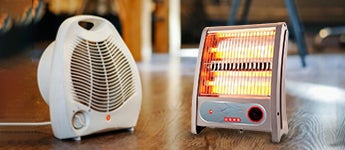 About Room Heater : Types, Features Tips and How to choose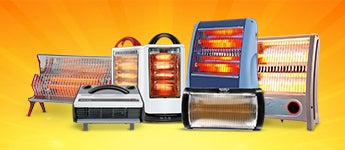 Top Room Heater Brands Available Online 2021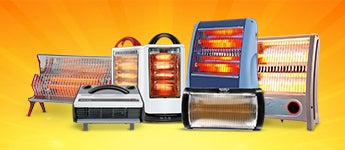 Types of Room Heaters and Their Uses
Room Heaters: Best Solution to Keep Your Room Warm
---
Room heaters are convenient heating machines for a small space. These are a preferred option for elderly, sick, or people with constrained mobility. We offer high-quality room heaters within a reasonable range of prices from where you can select the correct temperature for your room space.
What kind of room heater you should use?
---
When you are planning to buy a room heater, consider the room size and usage time.
Warming an entire space for a couple of hours or more
---
For this, you should use a convector heater. These work by warming the air quickly beside them which at that point normally flows moderately equally around the room. They take somewhat longer to work, however, this sort of room heater can be effectively controlled with a clock and indoor regulator, so you don't overheat the room and you can save your money. You can get both electric and gas convector heaters. Oil filled room heaters are also a kind of convector heater.
Warming a room for a short span of time
---
For a quick effect of warmth or for progressively directional warming, fan heaters are the best option. These fan heaters work quickly and are great for small-sized rooms.
Buy Electric Heaters Online From Moglix at an Affordable Range
---
Are you looking for electric heaters at an affordable price? You can get some of the best room heaters from Moglix. These include radiant bar fires, warm air heaters, oil-filled radiators, fan heaters, and halogen heaters. Electric heaters are considered to be 100% efficient.
Buy Best Brands of Room Heaters Online from Moglix
---
If you are looking for the best brands of room heaters online, Moglix being a leading B2B e-retailer provides all types of room heaters. The products that we are offering as a part of this category have been sourced from brands such as Bajaj, Havells, Orpat, etc. The product prices have been planned according to the spending capacity of the buyers.
Havells Room Heaters - Havells heaters that are available at Moglix are perfect for use in any kind of rooms. We offer an extensive range of electric heaters that includes fan heaters. Stay warm and cozy with the extensive range of Havells comprehensive range of heating solutions. The electric heaters that we are offering of Havells are safe to use, consume less electricity, and retain heat for long.
Orpat Room Heaters - Orpat heaters come with a strong body which can last for longer. Suitable for small and large rooms both helps to heat up the room and beat the chill like a pro. You can get the orpat heaters at the best price from Moglix.
Room Heaters - Price Range
This data was last updated on 10/16/21.