Related Calipers Article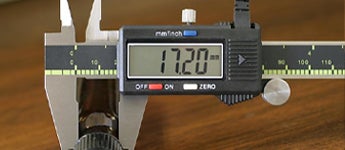 Know More about the Calipers and Its Types
Vernier Calipers: The Best Helping Hand
Measurement tools are significant when they provide high-precision results. If you are planning to buy a tool online that measures the internal and external diameter of an object, go for Calipers. Calipers are the best option to measure the distance between the two sides of an object.
You can measure everything with a caliper, from small objects to extensive processes. A quality caliper won't break or rust so you can use it for years without problems. The primary benefit of using a caliper is that it gives you accurate measurements every time. Because the calipers do all the work for you, you won't have to worry about taking several readings or completing complex calculations on your calculator.
Caliper is a well-made and valuable tool for both industry professionals and consumers. The product is high quality, both in its design and construction, and is reliable and compatible with various devices. It's a good choice for those looking for an accessible, easy-to-use tool to track the measurements on their projects.
Variety of Calipers out In The Market

Dial Calipers: They are used to take the inside measurement, outside measurements, depth, and step measurements. They have a dial that shows the total value with an indicator needle. Dial calipers include an easy-to-read dial on the side that you may twist till the zero line corresponds with your part's measurement scale. Turning a little knob at the top of the instrument locks it over your measurement reading, preventing slippage between moving elements during an accurate measurement.
If you push too hard with a digital caliper (or any other type), you may produce too much friction and get inaccurate results.
Vernier calipers are used for accurate measurement and are ideal for fine work. They have a vernier scale on the jaws to measure and read small increments, which can be very useful when measuring things such as threads or diameters that might be too small to use a regular ruler.
Vernier calipers are used for more precise measurements, especially in engineering and jewelry. You may need to know how accurate something is to fractions of an inch. The vernier scale allows you to see how accurate your measurement is by comparing it against the markings on the dials (usually 1/100th or 1/1000th).
Digital Calipers: They are also known as electronic calipers. They work on the latest technology. These calipers have an internal microprocessor that calculates the position of jaws and displays the reading.
Jenny Calipers - Jenny calipers measure exterior, interior, and length diameters. Jenny's caliper jaws are adjustable. It's easy to measure from multiple angles or under the item. Jenny Calipers have been used in manufacturing and construction for over 100 years.
Jenny Calipers measure round components' outer, inner, and length diameters. The caliper measures 0-6 inches precisely and features a vernier scale. High-quality materials make the calipers durable and versatile. Jenny Adjustable Calipers have a lock nut that lets you set and lock any jaw measurement. It's great for measuring circular items.
Micrometers Calipers - When determining the thickness of a substance, a micrometer caliper is the instrument of choice. They are more precise than dial calipers, also used for this purpose. The main difference between these two measuring tools is that one has a fixed jaw that does not move and adjustable jaws. They can be used in metrology and engineering to measure flatness, circularity, roundness, diameter, and depth.
The micrometer caliper is used to measure the thickness of a material. They are more precise than dial calipers, also used for this purpose. The main difference between these two measuring tools is that one has a fixed jaw that does not move and adjustable jaws.
They can be used in metrology and engineering to measure flatness, circularity, roundness, diameter, and depth. The micrometer caliper is used to measure the thickness of a material. They are more precise than dial calipers, also used for this purpose.
Spring Point Calipers - Popular calipers are Spring Point. They're also the most utilized. Therefore, they're considered accurate, dependable, and simple. Spring Point Caliper users can't imagine a better caliper.
Spring Point Calipers are beautiful tools but not always preferred by others. They are composed of spring steel, which makes them lightweight (and sometimes brass) but less intense than ones made of hardened steel or aluminum, like Mitutoyo or Starrett. If you require a lightweight device for extensive measurement sessions, go ahead.
The easiest to use are Spring Point Calipers. Large, easy-to-read scales with numerical graduations that don't overlap while measuring tiny objects. These calipers include a unique locking mechanism that allows the tips to be turned and locked in either direction.
Buy Calipers Online for Error-free Measurement
Calipers are very handy tools to work with. They have several advantages. Check them out below:
Adaptability: They can read out the measurement on a ruled scale, a dial, or a digital display. These tools can be used in die-making, model-making, and in similar applications.
Price: There are various types of calipers available online. They are very common and simple to use. They are available at a cheaper price than any other measuring tool.
Accuracy: It is one of the main advantages of calipers. They provide the exact measurement of an object of any shape.
Strength: Calipers are made of pre-stainless steel. So, they are durable and reliable. They sustain for a long time.
Factors To Consider Before Selecting Calipers
Accuracy: The device should be able to measure within a specific range.
Precision: The device should be able to measure small increments of the same value accurately.
Durability: The device should last long enough for you to make money out of it. It should also be safe for your business operations.
Ease of use: You don't want to spend too much time figuring out how to use the tool, or you may mess up your measurements and lose money in the process.
Best Brand of Calipers Online at Moglix
There are various brands available for vernier calipers online. You can find a whole gamut of calipers online at Moglix, sourced from the best and the most renowned brands such as Insize, Yuzuki, Imported, Tiny Deal, Summit & Aerospace.
Bellstone Calipers: It has an admirable position in manufacturing, supplying, and trading of construction machinery. It is known for its effortless operations, top performance, and the long operational life of products.
Insize Calipers - Insize, Calipers measure accurately and precisely. They're the best. It's composed of sturdy, high-quality material. The bright yellow color makes them easy to read in low light. Large scales allow for rapid, precise measurements. It has an additional dial indication and ratchet stop, so you don't need to manually calibrate or lose track of your measurement.
Tiny Deal Calipers - Tiny Deal Calipers have various features that make them stand out from other brands. For instance, they have an auto-off feature that ensures your caliper will not stay on and use up battery power when not in use. They also have a large LCD screen that makes it easy to read your measurements.
In addition, the Tiny Deal Calipers come with a carrying case and an extra battery, so you can be sure that you have everything you need to take your measurements wherever you go.
Aerospace Calipers - Aerospace calipers measure accurately. Hardened steel aerospace calipers can survive extreme environments without losing accuracy.
Always precise readings. High-quality equipment ensures measurements within 0.0001 inches.
Aerospace calipers are great for production. The best measuring tool. Their precision calipers offer several varieties and features. Digital calipers are Neiko 006-37 digital calipers DIYers and hobbyists need this digital vernier caliper to measure small items. LCD shows inches and millimeters.
Yuzuki Calipers - Precision is critical when measuring anything. Whether you're a woodworker or metalworker or need to measure something around the house, calipers are a necessity. Yuzuki calipers are some of the most precise and well-made calipers on the market.
Yuzuki calipers are made from hardened stainless steel and feature a large, easy-to-read digital display. They can measure inside and outside dimensions and can even be used to measure depth. Yuzuki calipers come in various sizes to fit your needs and are backed by a lifetime warranty. So, pick up a set of Yuzuki calipers if you need to measure something with quality and precision.
Why Buy Caliper Measuring Tool from Moglix.com
You can easily buy calipers at Moglix.com. We offer the best products at a reasonable price. It is an ideal contact for customers due to its broad range, extensive sales network, and knowledge of suppliers.
Along with these, also check other measuring tools such as electrical power testing tools, electronic and bench testing, measuring precision tools, laser level tools, temperature & humidity meters, detectors, air velocity meters, weighing scales, water meters and many more.
Frequently Asked Questions about Calipers
---
Can vernier calipers measure depth?
Yes, depth of a hole can be determined by placing a depth rod into the opening. The rod will extend from the end of the calipers when you adjust the jaws with the thumbscrew
Can vernier caliper measure internal diameter?
A caliper is a measuring tool that is used to determine the distance between two opposing surfaces of an object. Calipers are used to measure thicknesses and internal or external diameters that are difficult to measure with a scale. So yes vernier caliper can be used to measure the internal diameter.
Top Selling Calipers Price List in India
Calipers - Price Range
This data was last updated on 1/31/23.