Related Garden Shovels Article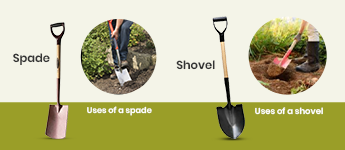 Guide to shovels and spades: Meaning, uses, and differences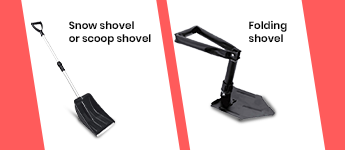 Types of shovels every gardener must be familiar with!
Buy Garden Shovels at Irresistible Prices only at Mogilx.com
---
Who doesn't love a calm green garden in their surroundings? Some love to create it indoors while others select an outdoor area. Whichever way you choose, serene greenery always looks soothing and appealing.
But not everything that looks green is easy to maintain. A lot of effort needs to be put to make sure you get the ultimate garden you have been thinking of. For that, you need the best tools and equipment.
Moglix offers you an exclusive range of shovels, garden spades, long-handled shovels, and digging shovels. These tools are great for maintaining an outdoor garden area. Wondering why you should get yourself a garden spade, read to know more.
Uses of Garden Shovels
---
When you start with gardening, the first things that need to be done are digging and sowing. A land that is very well dug and with leveled soil is easy to sow seeds and grow plants. Digging helps to uproot all the weeds and helps to bring the humus layer of soil upwards.
Long-handled shovels or any gardening shovels are mostly used to remove pebbles or dig holes in the dirt. However, they can also be used to lift other materials like soil and snow. Long-handled shovels or short-handled shovels have a pointed v-shaped edge, providing smooth lifting of soil, snow, and pebbles and placing them away. Long-handled shovels offer better grip and hold.
However, a garden spade has much of a concave shape and is used specifically to dig holes. Apart from the shape of the blade, a spade also has a longer handle than a shovel. With a spade, you can dig straight holes in the soil and also level up the lawn area.
Spade easily penetrates the soil however hard it may be. But, a shovel won't do that for you as they are easy to lift lighter materials.
--> Digging Shovel: It is used to dig the soil in tough terrains.


--> Garden Shovel: A regular daily use shovel designed to be easy to use in the garden area.


--> Flat Shovel: It can also be referred to as a garden spade. As stated earlier it can be used to remove pebbles, soil, snow, etc.


Why Consider Shopping Shovels from Moglix?
---
Be it a regular gardening shovel, digging shovel, or garden spade. Moglix has all of the options sorted just for you. Get your hands on your favorite tool at amazing prices. Moglix has the best deals on all sorts of gardening shovels. You can easily compare the products by their ratings and descriptions. Our site offers you an easy search for the product you have been looking for. Not to mention, you will get the best product of top quality at a great deal on the site.
Frequently Asked Questions about Garden Shovels
---
What is the best type of shovel to dig holes?
A circular digger shovel is useful for digging holes in softer soil. It has a blade with curved edges, similar to a pointed digger shovel, but the tip is curved. It is great for digging holes for new plants or trees, as well as transplanting bedding plants.
Can I remove the grass with a shovel?
You can clear a vast area by clearing grass with a shovel with a little bravado and patience. You may try plethora of techniques, but this is by far the easiest way to remove the grass. This strategy works especially well when you can cut straight lines of grass.
Top Selling Garden Shovels Price List in India
Garden Shovels - Price Range
This data was last updated on 9/28/22.