Related Speakers Article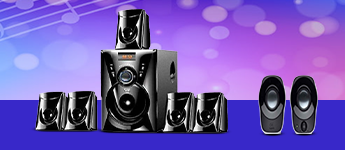 Tips to know before buying speakers online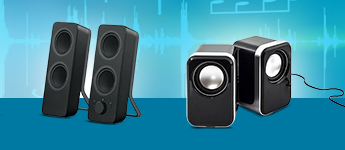 Types Of Speakers Available In The Market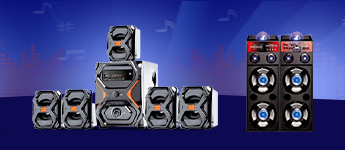 Speakers Classifications That Suits Your Home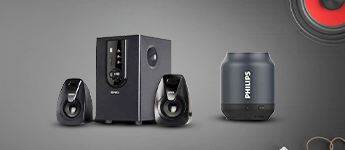 Top Trending Speakers Brands Available Online with Price List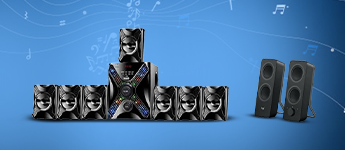 Check out the different Speakers according to price ranges
Get Your Hands on Premium Quality Bluetooth Speakers
A Bluetooth speaker is a wireless audio accessory, and Bluetooth is its primary connection method. While some Bluetooth speakers can connect to WiFi networks or wire, their portability is their main selling point. With the help of a speaker, you may more easily enjoy listening to your favourite podcasts or music. The majority are transportable so that you can bring them practically to any place. Since there are no wires to attach, you can do this. We at Moglix provide high-tech bluetooth speakers from top brands such as Krisons, Zebronics, JBL, I Kall, Sony, and many more.
Range of Portable Speakers You Can Choose From
Woofer - Woofers are frequently referred to as bass speakers as a result. A standard woofer produces solid bass and lower frequency sounds. They can be mounted in various arrangements and locations throughout the home. A woofer is necessary for a high-quality home theatre, and various options are available. You can buy woofers individually or as part of a speaker package.
Midrange Speaker - The typical frequency range for mid-range speakers is 200 Hz to 5 kHz. Midrange driver speakers typically provide sounds similar to human speech or playing musical instruments. Together with woofers and subwoofers, they offer a fuller sound profile. Midrange speakers produce most of the sound in movies, TV shows, and music.
TV Sound Bars - A home theatre setup with several speakers can be substituted with TV sound bars. Flat-screen televisions of today produce subpar audio. However, high-end home theatre speakers are reasonably priced. Sound bars offer a considerably superior audio experience compared to the speakers on television. They then provide clients with an alternative to home theatre speakers that is more affordable.
Smart Speakers - The smart speaker seems to be more popular than anything else these days. These speakers have WiFi connectivity and assistant integration. Voice assistants like Apple's Siri, Google Assistant, and Amazon Alexa are frequently used via speakers. Standard audio technologies are included in smart speakers for sound output. They often perform like full-range driver speakers because of their small size.
Wireless Bluetooth Speakers - Bluetooth wireless speakers use Bluetooth connectivity to provide sound without wires. They frequently use rechargeable batteries and put a heavy emphasis on portability. Usually, individuals use these speakers for entertainment at home or when traveling. High-end Bluetooth speakers are capable of producing powerful sound with decent bass.
Tips to Remember Before Buying Branded Speakers
Portability - The user and the application greatly impact a speaker's portability or mobility. Because of the speaker's portability, there are additional ways to use it, such as taking it on road trips, etc. When the speaker must be kept in a single location, settings such as offices or homes that are easily changed are preferable. Small speakers are becoming more popular, and their portability adds to their utility.
Dust and Water Resistance - The speakers must be equipped with waterproof technology to avoid damage from water exposure. Doing this prevents you from spending money on repairs that would have needed to be made frequently. We are surrounded by dust. Therefore equipment like portable speakers will inevitably come into contact with it. Over time, a buildup of dust particles can damage, dampen, or wear down the speaker and cause a drop in sound quality.
Speaker Usage - A speaker is helpful for many things. It can serve as a system for in-home entertainment and as a laptop or computer's audio output. Additionally, it offers portable listening alternatives for high-quality audio on the road. Therefore, a user can filter down their options based on the various purposes for the speaker, assisting them in purchasing the best speakers money can buy.
Sound Quality - This is one of the most important characteristics when purchasing a speaker. Less than 1% of the total harmonic distortion is required. You may need to physically check the audio quality because most speakers may not have detailed knowledge of the audio quality.
Size - You should choose the style and size based on the intended use and the available space for the speaker. There are various speaker types available. There are a variety of possibilities for speakers that are shaped like cylinders, bars, ovals, etc., ranging in size from small to enormous.
Take a Look at Various Brands Selling High-Quality Speakers
Krisons Speakers - Krisons strives to produce a balanced, clear sound for all listening situations. Additionally, they have speakers with a glossy finish and a digital display that displays connectivity mode information. You can enjoy sound quality like never before with Krisons bluetooth speakers. Through these robust speaker systems, enjoy loud, clear music across the space.
Zebronics Speakers - By infusing Excellence, Quality, and Reliability into every one of its products, including speakers, Zebronics revolutionises technology for the public. After conducting thorough market research, the most reputable and authorised vendors were selected to supply the raw materials used to make Zebronics Speakers. The outstanding quality of Zebronics goods is highly recognised in the industry.
JBL Speakers - JBL has established itself as a household name among customers looking for high-quality audio systems. It has seen success in the professional market, offering the quality required in many professional settings. JBL offers a wide range of speakers, including portable Bluetooth, installation, live sound, home, car, smart, cinema, and recording, to mention a few. They are well-known for a reason, and this firm makes loudspeakers that are among the best in the world.
I Kall Speakers - Through the years, I Kall's inventive spirit has produced many speaker models in many categories, including portable wireless, innovative technology, home theatre, computers, automobiles, public speech, and more. I Kall continues to be at the forefront of audio and loudspeaker technology, pushing the industry forward while offering affordable, top-notch speakers for consumers and professionals.
Sony Speakers - Because of their excellent performance and convenient portability, Sony speakers are ideal for any music enthusiast. Their incredible speakers provide exceptional sound quality at affordable prices and are a fantastic fit for your business or home office. All Sony speakers are made utilising high-quality materials and cutting-edge manufacturing processes, making them up to the standards in this immensely challenging industry.

We also offer various speakers from reputed brands like Boxin, Ahuja, boAt, Infinity, Google and others.
Buy Reasonable Bluetooth Speakers with Moglix
At Moglix, we strive to give our customers the best service and high-quality goods. We boast an extensive selection of portable speakers from well-known and reliable bluetooth speaker manufacturers. We provide fantastic discounts and deals to ensure you get affordable small speakers of high quality. Thanks to our user-friendly software, you may quickly and comfortably browse through our products. Before making a decision, clients may evaluate the features and costs of various brands thanks to our accessible navigational site. Choose from one of the top brands available in the world at reasonable prices, whether you use the speaker for work or leisure.
Frequently Asked Questions about Speakers
---
How do I know if my woofer is working?
Check the sound at a low volume to see if your subwoofer has blown. If the sound is distorted, you have a partially blown subwoofer, and if there is no sound at all, you have a completely blown subwoofer. Before jumping to conclusions, check the cable that the subwoofer is receiving its signal from.
How do I know if my speakers are blown out?
The most common audible sign of a blown speaker is an unpleasant buzzing or scratching sound, either alone or near the pitch of the note the speaker is attempting to reproduce. There could also be no sound at all.