Shop More by
Related Searches
Related Category
Related Projectors Article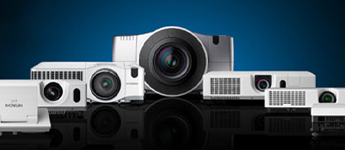 Projector Buying Guide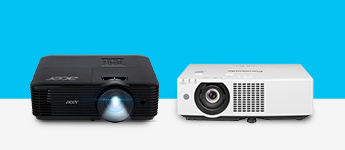 Top Projector brands available in the market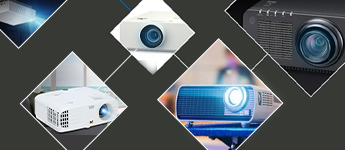 Different Varieties in Projectors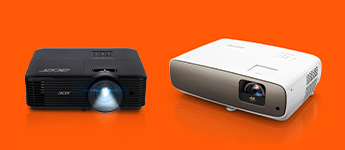 Types of Projectors based on their Applications
Buy Highly Efficient Projectors at Economical Rates
A projector is an optical device that "throws" or projects an image or video onto a surface, most commonly a projection screen. Light is shone through a small clear lens to form an image in a projector. Some projectors use a lamp as the light source, while others employ lasers. Generally, projectors can be used to project video, slides, and photos onto a screen and are also utilised for presentations in business meetings, conferences, classrooms, etc. We offer the highest-quality HD projectors sourced from the most prestigious brands like IBS, Myra, Egate, BENQ, Vivibright and many others.
Various Types of Projectors to Choose From
4K Projectors - With a USB Hardware Interface and a 4K resolution, 4K projectors are among the most in-demand types of projectors. They contain built-in DLP display technology and can connect to devices through Bluetooth, wifi, and USB. They are lightweight and weigh approximately 865 grams. They do not require batteries and may be mounted on the ceiling. They're frequently used as home theatre projectors.
LED Projectors - LED projectors are easily connected to devices such as mobile phones, laptop computers, and many more. They are outfitted with LED light projectors, ensuring that the image or video projected is clear and high resolution. They are high-quality projectors that use LEDs to display images and other content. They can be controlled remotely and have longer LED lamp life. They are also portable and ceiling mountable. Some advanced models even include a low-noise fan that can cut noise in half.
Nebula Projector - A Nebula Projector is a small, portable projector that may be used in three ways. They can sometimes function as a standalone projector, where apps can be downloaded and broadcast directly through the usage of wifi. They are available wirelessly and occasionally through HDMI cable. Some of the highlights of Nebula Projectors include built-in speakers and a resolution of 1080 pixels. With their Android features and sound features, Nebula Projectors are instantly recognised as one of the greatest projectors in the world. They are portable, lightweight, and reasonably priced.
Points to Keep in Mind Before Purchasing LED Projectors
Aspect ratio - This relates to the image's rectangular shape on the screen. The most common formats are 4:3 and 16:9. It is crucial to know that TV shows and movies have different aspect ratios, so choose a projector with an aspect ratio that matches the type of content you will be watching the most. Today's content consumption has shifted away from movies, sports, and videos and to games and other forms of entertainment delivered via apps.
Resolution - A simple rule to remember when choosing a projector's resolution: the greater the resolution, the better the image will be and the less likely pixelated content will be presented. There is a range of projectors on the market with resolutions ranging from 720p to 4K Ultra HD, and you should choose one based on the content you routinely consume. Full HD, or 1920x1080, is the most popular resolution available today and works well without breaking the bank.
Brightness - When choosing a projector, it is critical to choose one that provides adequate illumination for your space and does not induce eye strain due to continuous watching. The ANSI Lumen rating of a projector can be used to correctly evaluate its brightness.
Installation - Even the best projectors are useless if they cannot be readily set up and fit exactly in your room. When it comes to electrical projectors, there is no such thing as a one-size-fits-all solution. Changing your space to accommodate your projector might be inconvenient and costly. It's always a good idea to choose a projector that has lens shift, keystone correction, a suitable throw ratio, and a zoom ratio that can be adjusted to fit any given room.
Electrical Projectors to Select from Renowned Brands
IBS Projectors - The IBS projectors are ideal for use in home theatre systems because they are lightweight and portable. They have an in-built remote control and can project images with the best resolution. These projectors are also ideal for usage in small spaces and can deliver a high-quality viewing experience. They are covered by a warranty, ensuring a safe purchase.
Myra Projectors - Myra is a world-renowned brand that produces high-quality, damage-resistant LED projectors. Their projectors are reasonably priced, of great quality, and simple to operate. Because they are portable, they are perfect for home and/or office usage. Myra's projectors have dual inside HiFi speakers of the best quality. They create stereo and powerful sound, which is an excellent addition to a private viewing.
Egate Projectors - Egate is a well-known brand that has been creating high-quality projectors for many years. It is well-known for designing and selling high-end AC projectors. As a result, they are highly appreciated and desired projectors by a huge user base. They are simple to use and come in a number of formats. They offer projectors that are packed with features at an incredible price.
BENQ Projectors - BenQ projectors are popular among consumers due to their outstanding image quality and high projection ratio. BenQ projectors are comparatively reasonable, making them a great substitute for more expensive models. BenQ offers a wide range of projectors to meet any requirement, from home entertainment to business. BenQ projectors can broadcast crucial information as far as 30 feet away. A DLP chipset is used in this projector. This guarantees that your flicks go smoothly.
Vivibright Projectors - Vivibright is a reputable manufacturer, exporter, and supplier of Projectors. Vivibright projectors are available in a variety of sizes, diameters, body constructions, and thicknesses to meet a wide range of requirements. All products are obtained from the most reliable and official merchants, who were chosen after extensive market research. The industry recognises BENQ products for their exceptional quality. They are dedicated to offering a high-quality range of BENQ projectors.
We also offer projectors from reputed brands like Acer, Sony, Zebronics, Ooze, ViewSonic and others.
Moglix Offers Low-Cost Full HD Projectors
We pay great attention to how our clients' needs develop over time. We provide the most affordable projectors. We acquire these LED projectors from the most reputable brands to ensure they provide the finest quality. We have worked with some of India's most prestigious brands. This enables us to meet our client's high standards. Our projectors come with a variety of special offers and discounts. They are user-friendly, low on maintenance, and durable, ensuring you enjoy working with them. They are efficient for entertainment and professional use. Visit our website to see the most economical projectors from the best companies at wholesale prices.
Frequently Asked Questions about Projectors
---
What is the range of brightness (lumens) in video projectors?
The ideal range of brightness in video projectors is 2000 to 4000 lumens. Well if you desire to have a larger screen display then it's recommended to also increase your brightness for a better viewing experience.
How are laser projectors different from normal projectors ?
A laser projector is very different from a normal projector, it offers long-lasting brightness, low maintenance, and amazing color contrast in comparison to similar lamp-based models.
What is the best distance for a projector ?
For any projector that you use, it recommends that the D/W(Distance/Image) ratio is 2/1. In simple words, for each foot of image width, the projector needs to be 2 feet away.
How do I choose the right projector for my needs?
When choosing a projector, consider the size of the room and the distance from the projector to the screen, as well as the resolution, brightness, and contrast ratio of the projector. Also consider the type of content you will be displaying, such as movies, presentations, or gaming.
What are some common problems with projectors and how can they be fixed?
Common problems with projectors include overheating, lamp failure, and image distortion. Overheating can be caused by poor ventilation and can be fixed by cleaning the air filters or adding a cooling fan. Lamp failure can be caused by a worn-out lamp or a malfunctioning lamp power supply, and can be fixed by replacing the lamp. Image distortion can be caused by a misaligned lens and can be fixed by adjusting the focus.
Can I connect my laptop or other device to a projector?
Yes, most projectors have at least one HDMI, VGA, or USB port that can be used to connect a laptop or other device. Some projectors also have built-in wireless connectivity options such as Wi-Fi or Bluetooth, which can be used to connect a device without the need for cables.