Related Solar Panels Article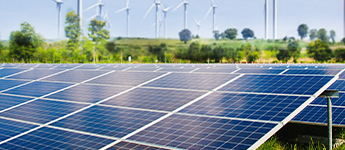 Know All About Solar Panels before Buying Yours!
Types of Solar Panels and their Features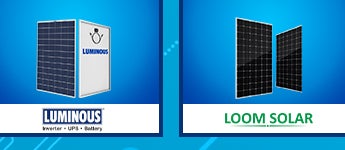 Supreme Brands of Solar Panels And Their Unique Features
Checkout the Best Solar Panels at Affordable Price
---
Solar panels convert solar energy into a source of sustainable, renewable energy, and turn it into electricity, which is then utilized to power electrical loads. Multiple individual solar cells make up solar panels, and each solar cell is made of layers of silicon, phosphorus (which generates the negative charge), and boron (which provides the positive charge).
Solar panels provide power for various uses, a highly practical method. Off-grid living is the most cost-effective choice. Solar power systems are ideal for rural homes and cottages. A solar panel system may be less expensive and capable of producing electricity for up to three decades, depending on maintenance.
Solar panels are an excellent way of absorbing solar energy and freeing yourself from electricity bills. But before you start planning your solar power system, there are a few things You'll need to know such as how many solar panels you'll need. What kinds of solar panels and solar panel price are available on the market? And how can I determine the best company to my solar panels installation?
Types of Solar Panels Available in the Market
---
Monocrystalline Solar Panels - A monocrystalline solar panel is the most advanced while being the oldest form. In this situation, monocrystalline solar cells are used in the discussions. They are built of pure silicon and have 40 monocrystalline cells in them. Because of how sunlight and pure silicon interact, monocrystalline cells look black. However, when it comes to back sheets and frames, customers have several colour options.
Polycrystalline Solar Panels - Polycrystalline panels (also known as Multicrystalline panels) comprise many silicon crystals in each PV cell. These are the most common of the three types of solar panels. To manufacture them, silicon crystal fragments are heated and sliced into wafers. Polycrystalline panels have a mosaic-like appearance and are square. Because the panels are comprised of multiple silicon crystals, the surface has a blue tint.
Thin-Film Panels - Thin-film panels are a kind of solar cell from the second generation. Thin-film panels, as the name implies, are nearly 350 times thinner than silicon wafer-based panels. Another distinctive element of thin-film panels is their material composition. A thin-film panel, for example, can be composed of cadmium telluride, amorphous silicon, or Copper Indium Gallium Selenide.
Factors To Consider Before Selecting Solar Panels
---
Choose the right technology - Solar systems are manufactured in a variety of sizes and performance levels, according to the vendors. Some companies manufacture high-quality, very effective solar power systems capable of supplying the required electricity.
Track your energy consumption - You can measure your energy use with a competent solar installer. The amount of energy you want to produce with your solar system depends on this. You have to decide how many solar panels to install and how much of your energy needs solar energy can satisfy by knowing the average amount of energy you will consume.
Verify the economic advantages in your region - Many governments give financial incentives to consumers who want to install solar panels. As a result, photovoltaic power will be able to compete with conventional energy generation methods.
Choose the appropriate positioning - The location of your solar panels, as opposed to selecting monocrystalline or polycrystalline panels, can have a much more significant impact on the amount of electricity generated.
Choose whether you want a battery - For residential solar panel installations, the times when the most electricity is generated—during the daytime—don't always correspond with the times when it is consumed—during the morning and evening, just after sunset is when most people use their televisions, air conditioners, heaters, and kitchen appliances.
Top Brands of Solar Panels
---
Loom solar Panels - The Loom solar panels are made of multi-crystalline silicon structures. They typically come with a 25-year on-site manufacture warranty and can last for 30 years. Loom Solar is a solar panel and lithium battery company situated in Faridabad, Haryana. It is an ISO 9001 - 2015 certified firm and a Govt. of India-approved startup.
Zunsolar - ZunSolar provides a 25-year performance warranty with the Carat 24 ZR 165W polycrystalline solar panel, guaranteeing 90 per cent power output for the first 10 years and 80 per cent power production for the next 15 years.
Luminous Solar Panels - Luminous is a strong and reliable brand that provides a wide range of creative products in the power backup, home electrical, and residential solar arena. Luminous offers the most effective solar solutions for homes, businesses, and industries.
Luxmi Solar Panels - The Luxmi Solar 250W Polycrystalline Solar Panel, SP04 is among the most unique products available. These solar cells can produce up to 250 W of power on a single charge. Why pay for power when you can make your own? This panel is incredibly lightweight and easy to install.
Get the best Solar Panels Price from Moglix!
---
The product is technologically superior and provides users with the best options for satisfying their needs. All the solar power systems produced under this prestigious brand are made of the highest quality components that adhere to all the requirements and specifications and are purchased from licensed vendors within the nation. In addition, the manufacturing procedures used to create these tools are highly regarded and cutting-edge to produce the best results. The additional unique feature of regulating the temperature is relatively simple. You can choose between three different temperature settings and determine the ideal temperature to know and use the machine in the best way possible.
Explore the solar panel online, extensive list of uniquely designed and crafted Solar panels for homes from the industry's reputed and biggest brands at Moglix at the best price.
Frequently Asked Questions about Solar Panels
---
How & when do solar panels work?
solar panel works by allowing photons, or particles of light, to knock electrons free from atoms, generating a flow of electricity.
What's the typical lifetime of solar panels?
The average lifetime of solar panels is between 25-30 years.
What is the efficiency of Solar panels?
While solar panel efficiency is generally around 15-20%, solar cell efficiency can reach 42% in some cases.
What are the types of Solar panels?
There are three types of solar panels - monocrystalline, polycrystalline and thin-film panels
What are the best solar panels for home?
Polycrystalline solar panels from Luminous, Microtek, etc. are suitable for home