Related Pedestal Fans Article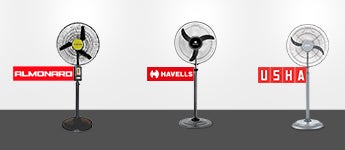 The Supreme Brands of Pedestal Fans To Cool You Off
Pedestal Fans and Table Fans -The Ultimate Solution for Your Cooling Needs
Just like Ceiling Fans, Pedestal Fans and Table fans are also widely used in homes and offices since they are highly portable and are suitable for areas with limited space. They are suitable for use during the summer when the mercury goes up and the temperature rises. Moglix has come up with an exciting collection of table fans that are user-friendly and help in ensuring a high level of cooling within rooms. Keeping in mind the popular notion that table fans are classy, we have come up with an exciting collection of table fans online with the latest design. The fans that we are offering as a part of this collection make minimal noise and go well with the decor of rooms. Because of the wide range of benefits, it offers, a table fan is one of the most affordable cooling solutions during the summer.
Buy Table Fans from Leading Brands Online at Moglix
You can easily buy Pedestal and Table Stand Fans online at Moglix. Shop online by browsing through the extensive collection at Moglix.com. You can now buy branded Pedestal and Table Stand Fans online at attractive prices with special discounts from Moglix. If you have been shirking from buying branded Pedestal and Table Stand Fans because of the prices, here is your chance to bag a great deal! Save loads of money by buying Pedestal and Table Stand Fans online from Moglix.
Havells Table Fans- Havells table fans available at Moglix are manufactured from high-quality plastic material and operate smoothly. They have a jerk-free oscillation and are equipped with a thermal overload protector.
Bajaj Table Fans-Bajaj table fans have a high speed and come with the latest designs. They come with jerk free and uniform oscillation and have the ability to withstand fluctuations in voltage. These table fans come with a powder coated guards and have aerodynamically designed PP blades. Equipped with strong motors, they provide high air delivery and have been specially designed for use industrial conditions.
Crompton Greaves Table Fans- Crompton Greaves table fans have three blades and four-speed settings. These fans can operate at high speed and cover a greater part of the room.
Select From the Wide Range of Pedestal Fans Available at Moglix
At Moglix, we are aware of the concerns of buyers looking for the latest range of table fans that are available in the market. Therefore, to meet their needs, we have come up with the latest range of table fans such as rechargeable table fans, small table fans, pedestal fans with remote etc. from leading brands in the market such as Havells, Bajaj, Crompton Greaves etc. To ensure a high level of satisfaction among users, we conduct a number of quality tests to ensure that the ordered fans reach buyers in the best working condition.
Keeping in mind the spending capacity of buyers, we have kept table fan prices within a reasonable range. To meet the rising demands of our customer base, we have entered into tie-ups with suppliers based across India, China, and Taiwan. The fans that we have on offer as a part our range come with speed controller and wide angle oscillation and can offer a satisfactory quality of service over a long span of time.