Shop More by
Brand Category
Havels Exhaust Fan

Havels Table Fan

Havels Cooling Fan

Havels Axial Fan

Havels Pedestal Fan
Related Refrigerators Article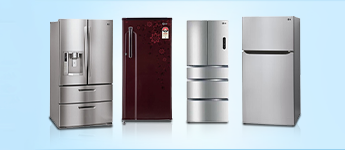 Refrigerator buying guide: tips to consider before buying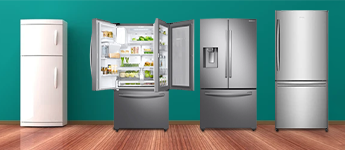 Top Refrigerator brands in India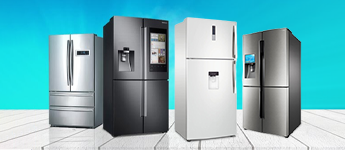 Different types of Fridge in the market
Shop Online for Smart Refrigerator from your Favorite Brands
---
A refrigerator has become a necessity and an integral part of our daily lives. It meets a lot of our eating requirements and adds convenience to our daily routine. The refrigerant inside absorbs the heat from your food, keeping it fresh and increasing its shelf life. It is where you keep perishable foods like milk, butter, bread, fresh fruits, and vegetables, and so on.
Types of Refrigerators Available Online
---
With so many refrigerator models available in India these days, choosing the perfect one can be difficult. If you are going to buy a refrigerator online, you should know the common types of fridge available:
Single door fridge: If you have a limited budget, have a small family, or have limited space in your kitchen, a single door refrigerator may be the best option. A single-door fridge has a freezer and a vegetable section within the fridge itself.
Double door fridge: These refrigerators provide greater capacity and have a better chilling effect, allowing you to store food for more extended periods. Their volume ranges from 235 to 495 liters. You can find some of the top double-door fridges with energy-efficient star ratings that are designed to optimize electricity usage and consume less power, resulting in lower power bills.
Side by side refrigerators: These smart refrigerators resemble a cabinet with two doors that open in tandem. Side-by-side refrigerators are quickly becoming popular in modern houses since they have more amenities than single and double-door fridges, such as an LED display, multi-air flow cooling, greater capacity, and a water dispenser.
Triple door refrigerators: The 3-way flexible shelf of these refrigerators gives you a lot of flexibility when it comes to storing different types of meals at the same time. Triple-door refrigerators are frost-free, include huge separate vegetable drawers on the bottom, and offer a storage capacity of 240 to 350 liters.
Consider these Factors when Purchasing a Refrigerator
---
Type: Refrigerators come in different types. The choice depends on your requirements, including the size of your home, the number of people in your household, and so on. A more expensive side-by-side refrigerator is a great alternative if you have a large family or a bigger kitchen. If you live alone, a small top freezer or mini refrigerator will suffice.
Capacity: This is very dependent on the type of food you wish to store. Refrigerators come with two options: large freezer capacity and large veggie capacity. When purchasing a fridge, make sure you do your homework. It makes sense to choose the latter if you are a vegetarian who doesn't keep many frozen foods on hand. A large freezer capacity is a superb option if you store a lot of meat and frozen seafood, chocolates, and ready-made frozen delicacies.
Defrosting type: Consider whether you want a direct-cool or frost-free refrigerator while purchasing. A direct cool method saves electricity, preserves food for a shorter period of time, requires manual defrosting, and keeps the fridge cool via natural convection. A frost-free refrigerator uses less energy, preserves food for a longer period of time, automatically defrosts meals, and uses electric fans for cooling.
Energy consumption: Greater power entails higher costs. On the top-right corner of each refrigerator is a tag with star ratings. To determine your fridge's energy use, the Bureau of Energy Efficiency (BEE) employs a star grading system. Higher the number of stars, the lower the fridge's energy consumption.
Inverter compressor: An inverter compressor or a regular compressor will be installed in your refrigerator. An inverter compressor produces less noise, saves you money, and uses less energy than a traditional compressor.
Brand: It is important to purchase from a reputable brand that offers a strong warranty, service, and maintenance. Brands such as Samsung, Whirlpool, and LG should be your first choice.
Advantages of Buying a Smart Refrigerator from Moglix
---
Moglix is one of the top online buying platforms that ensure high-quality products, in addition to delivering the best deals on all sorts of electrical and kitchen appliances, including refrigerators. The site provides an unrivaled shopping experience to all of its consumers, from product packaging and delivery to handling returns and exchanges. Purchase your first refrigerator from Moglix at unbeatable prices.
Refrigerators - Price Range
This data was last updated on 9/19/21.