Related Coffee Makers Article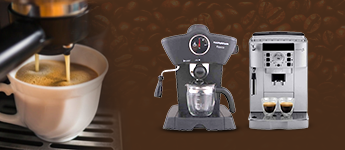 Make Refreshing Coffee with Wonderful Coffee Maker Machines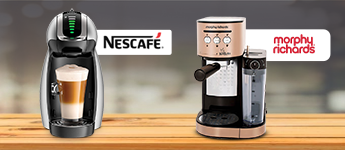 Best Brands of Coffee Maker Machines for Your Everyday Reviving Caffeine Dose
Coffee Makers: An Integral Part of Homes and Offices
Coffee makers are an integral part of households and offices. The smell of freshly brewed coffee is something we need every day whether is waking up at home or long working hours at the office. Not just that, some people cannot begin their day without strong coffee. So, if you have been addicted to coffee to be fresh and happy or to working for long hours at your office, a coffee maker machine is just what you need. Get a filter coffee maker and enjoy your daily coffee.
To provide cafe-style coffee to their employees and make them feel fresh for better productivity, employers must have coffee-making machines at their offices. It is an essential electronic machine that makes delicious coffee very easily and fast. Install a coffee vending machine at home or office and enjoy a refreshing cup of coffee.
What are the Various Types of Coffee Makers?
Drip Coffee Makers: Drip coffee maker machines have traditionally been a mainstay because of their simplicity of use, low cost, robustness, and capacity to swiftly create coffee for one to four coffee consumers at a time. The drip machine is one of the most often used coffee makers.
Espresso machines: The electric espresso machine is one of the more costly varieties of coffee makers. In contrast, domestic espresso machines can be more expensive and labor-intensive than other household makers. They can be worth it to the most ardent espresso drinker if you master your technique and produce rich, delicious shots of drink like your favorite coffee shop.
Percolators: Percolators are entertaining to see and listen to during brewing. Additionally, they frequently make a robust and tasty cup of coffee. Many homes switched to drip brewers from percolators, perhaps because drip brewers require fewer parts to install and maintain than percolators.
French Press Coffee Makers: The French press, commonly referred to as a "press pot" or "plunger pot," is a simple-to-operate, clean, and portable cappuccino machine. Metal mesh is the filter used by the press. This prevents the taste oils from the coffee from being caught in a paper filter during the brewing process and into your cup. Various variants are portable.
Thermal Coffee Makers: Like drip coffee makers, thermal coffee makers have the distinct benefit of brewing coffee in an enclosed thermal carafe. This prevents your coffee from continuing to "cook" as it stays on a warm surface, which might eventually result in a thick and bitter brew. It maintains your coffee warm for hours.
Advantages of Using Good Coffee Machines for Offices
Boost Productivity: If you have a coffee machine at the office, employees will tend their breaks at the same time. As per the research MIT, employees who take coffee breaks together are more productive.
Save Time: If employees leave the office for their coffee break and then return after some time, this results in a loss of time. Thus, to save the time of employees, these machines are necessary.
Good Machine makes Good Coffee: Nobody wants awful coffee and if employees drink below-average coffee, it reflects on their productivity. Make your employees happy with a good coffee machine.
Ease the Pain: Consuming coffee can ease pain in the neck, shoulders, forearms, and wrists. Thus, it also reduces pain while working.
Factors to Consider When Purchasing Coffee Makers
Type Of Coffee Maker: The first thing you should examine is the sort of coffee machine. The market offers a wide variety of coffee maker machines. They all differ in some way; some are good for espresso, while others can give you a fantastic black coffee. Before continuing, you need to assess your needs.
Capacity: The second significant aspect you will see while examining the kinds is size or capacity. The amount of storage and fills make up capacity. You must check how much water it can store and how many cups it can produce.
Technology: Technology is enhancing our everyday lives and making them faster and more consistent; in this regard, having a coffee maker that can also rhyme with your lifestyle would be the perfect alternative. Markets provide a wide range of high-tech machines with features like water level indicators, auto clean, and auto turn-off, but it is up to you to select the best. Innovative equipment may also save time and work.
Speed And Renewal: Some of you may not be governed by this point, but it is a top concern for others. Many of you are concerned about speed because coffee makers take longer to create a good cup while others only take a few seconds. Because some of us are constantly pressed for time, you should also take note of the water tank filling and the coffee grounds increasing. Therefore, it seems sensible to keep machine renewals in mind as well.
Filters: There are several types of filters on the market; if you love black, hard coffee, opt for gold-plated or metal filters; if you want a coffee that is calm and sophisticated, choose a paper filter.
Material Quality: As soon as you have the appropriate selections, you search for a decent machine body. The longevity and durability of a machine are determined by its body. One must look at the machine's outside and inner bodies since the stainless steel body is the greatest.
Best Brands of Filter Coffee Machines Available at Moglix
Bajaj: Bajaj products are easy to use and even easier to maintain. Bajaj coffee maker is the ideal solution for every coffeeholic who loves a fresh cup of joe.
Philips: Philips coffee makers are available in a very compact design. Enjoy the taste and aroma of freshly your coffee with this brand. Additionally, they make The Scoop, a single-serve coffee machine that can prepare one cup in little over a minute and costs just cents per cup. Replacing filters is no longer necessary because it includes a stainless steel mesh filter.
Prestige: Over the past five decades Prestige Limited, has emerged as India's largest kitchen appliances company. Their coffee maker machines are built on the pillars of safety, innovation, durability, and trust.
Delonghi: It's hardly unexpected that De-Longhi, an Italian maker of coffee equipment, focuses mainly on espresso machines. The company's bean-to-cup devices, such as the ESAM, one of the market's most reasonably priced bean-to-cup devices, are noteworthy. Contrary to many other devices, the ESAM has a steaming wand that consumers may use to customize the texture of milk rather than an automated frother.

Kaapi Machines: Kaapi makes espresso and cappuccino machines, but their filter coffee makers are undoubtedly the most well-known. Users of the Coffee On-the-Go Filter Machine may make hot coffee in just minutes without purchasing additional filters or continuously tossing away used ones.

Pringle Coffee Makers: Pingle is best recognized for its dual-Cup coffee brewing systems, which are found in its machines. They are made simple to use and provide consistent coffee that tastes the same. Pringle has made the trek to other regions of the world, but the fact that they usually only function with dual- Cup pods may turn off some potential customers.
Why Buy Coffee Makers Online at Moglix?
Coffee maker manufacturers differ in terms of cooking power. Some models use more wattage than others. While some can take a little longer, they are nevertheless compelling. If you're looking for high-quality coffee makers online at reasonable prices, Moglix is your one-stop shop. If you want to buy coffee makers online in India for an affordable price, check out the best deals at Moglix. Most of the well-known coffee maker brands are currently available here. The shipping network of Moglix is efficient and quick. So grab your phone and start buying online with Moglix right away!
Frequently Asked Questions about Coffee Makers
---
How do you clean a coffee maker?
Giving a deep clean to your coffee machine once in a while is a very good way to maintain its hygiene. The best way to do so is by adding equal parts of water and vinegar to the coffee maker, brewing the solution as usual and flushing off the mixture, and cleaning it with water.
How long should a good coffee maker last?
A good coffee maker has a 5-year lifespan on average. The machine can survive up to ten years if you take good care of it by cleaning and descaling it on a regular basis.
What are the advantages of plumbed coffee makers?
A plumbed coffee maker is going to save you a lot of space and manual effort by filling your water directly from the waterline. So investing in a coffee machine that reduces your efforts and serves you the best coffee every morning is a fantastic choice.
Coffee Makers - Price Range
This data was last updated on 12/2/22.