Related Pumps Article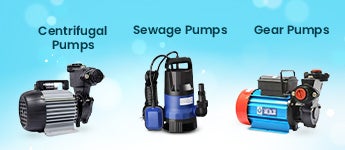 All You Need to Know About the Types of Pumps
Water for Overall Water Pumping Solutions
---
Water challenges have long been a source of tension in India, both in rural and urban regions. We frequently face the fury of water scarcity, regardless of whether or not the rainfall was adequate or whether or not the lakes that supply water are full. To retaliate, humanity devised a clever contraption known as "Water Pumps."
These large and mini water pumps use a simple mechanism and cutting-edge technology to extract water from underground sources and deliver it to our houses. These water pumps are eradicating the issue of water scarcity in most rural and industrial regions and have proven to be a great benefit.
Types of Water Motor Pumps and Their Features
---
Domestic and Agricultural pumps are the two basic types of pumps available on the market, depending on your needs and requirements. They are designed in such a way that an appliance is an excellent choice. There are various other types of pumps available under the broad category of these two types, each with distinct qualities. Continue reading to gain a better idea.
Centrifugal Pumps:
Centrifugal pumps circulate water by converting rotating kinetic energy into water flow hydrodynamic energy. An electric motor provides rotating energy. The Jet Centrifugal Pump, which employs a stream of drawn water to create a jet to boost the drawing capacity from subsurface resources, is another type of centrifugal pump with a similar principle.
These pumps can handle clean, cold freshwater that is devoid of abrasive particles and chemically hostile chemicals. Domestic water supply, lawn sprinklers, gardens, small farms, irrigation, agricultural uses, well and tank draining, swimming pool filling, and so on. When compared to regenerative pumps, these pumps have a higher discharge. A good grade ISI foot valve must be attached to the pump. When compared to regenerative pumps, these pumps have better hydraulic performance and reduced running costs.
Submersible Pumps:
A submersible pump is a device with a sealed motor submerged fully in water bodies, particularly open wells and bore wells. They are a more efficient and wiser choice because they are already immersed in water and do not require priming. They're further separated into two categories:
--> Submersible Pumps for Open Wells (Water/Oil Cooled) (For Open-Well Applications).


--> Submersible Pumps for Tube Wells (Water/Oil Cooled) (For Borewell applications).


These pumps can handle clean, cold freshwater that is devoid of abrasive particles and chemically hostile chemicals. Tube well submersible pumps are ideal for bore wells with 3", 3.5", and 4" diameters.
Shallow Well Pumps:
Shallow Well Pumps are an interesting option for shallow wells. This is because they have a lot of suction force and are ideal for rural locations.
If the suction head is more than 6 meters, which is the capacity of typical self-prime pumps, shallow good pumps with a suction head of up to 8 meters can be used as an alternative.
Borewell Compressor Pumps:
These pumps are explicitly developed to pull water from deep bore wells with specific dimensions. This equipment uses air pressure to lift water from deep bores.
These pumps are best suited for bore wells with a depth of up to 600 feet and a lower yield. Compressor pumps can be utilized in muddy water bore wells where tube well pumps are ineffective. Monobloc and belt-driven compressor pumps are the two types available. The bore well's production determines the compressor pumps' discharge.
Pressure Booster Pumps:
A pressure booster pump is a piece of high-quality equipment that you should consider if you want your home's water supply to be smooth and pressured. They are specifically designed to provide you with the required pressured water based on your requirements.
The automated pumping system includes a pressure tank that ensures consistent water pressure across all openings connected to the piping system, making it perfect for residential structures. When the water pressure lowers to a pre-set level, the pump begins to pump water, and when the consumption drops, the pump automatically stops when the outlet pressure increases to the pre-set stop pressure.
Self-Prime Regenerative Pumps:
Vanes on either side of the rim of a Regenerative Pump rotate in a ring-like conduit in the pump's casing. The fluid does not discharge from the impeller's tip; instead, it is recirculated back to the impeller's bottom. The pump re-primes itself through re-circulation or regeneration.
These pumps can handle clean, cold freshwater that is devoid of abrasive particles and chemically hostile chemicals. Suitable for home water supply, lawn sprinklers, gardens, and other similar applications. Because of their self-priming capability, these pumps can eliminate air and are suited for sucking water from pipelines, and do not require a foot valve.
Agricultural Pumps
---
The type of pump and the link between pump efficiency and total dynamic head (TDH) at a certain flow rate are all factors to consider when selecting an agricultural pump. Pumps used in agriculture irrigation include the following:
--> Centrifugal force (above ground)


--> Deep-well turbine


--> Submersible


--> Propeller


Consider the pump's working conditions when choosing an irrigation pump, such as:
--> The kind of water supply or source.


--> The pumping flow rate that is required (determined by the irrigation system requirements).


--> Head of total suction (lift from the water surface to pump intake).


--> Head with total dynamic potential (total pressure supplied by the pump).


Signs To Get The Tullu Pumps
---
--> If there is a large amount of oil or coolant leaking from the water pump's weep hole, the water pump should be replaced.


--> You notice that your engine's temperature is rising faster than usual.


--> You find yourself frequently filling the reservoir with water.


--> The puddle under your automobile changes hue from green to orange to crimson or brick-red.


--> You notice an odor inside your engine compartment that was previously unnoticed.


--> The engine compartment makes a loud whining noise.


Buy Water Pumps Online at Moglix
---
Water pump is essential for obtaining subsurface water, pumping water to the tank on the top floor of the house, and watering plants. Water pumps are also useful in agricultural and industrial settings. So, to complete such critical jobs, the best water pumps should be considered. The pump should deliver the necessary flow rate, endure pressure and temperature, and perform a variety of tasks. Browse e-stores for the topwater pumps from Kirloskar, Crompton, Lubi, Wilo, KSB, and other manufacturers. Order the pumps that meet your need and enjoy the shopping experience in your comfort.
Frequently Asked Questions about Pumps
---
Where are water pumps used?
A water pump's primary function is to extract water and transport it to the main unit. This product is used to pump water from a well, as well as to filter aquariums and ponds.
What is a pump suction lift?
Negative pressure on the suction side of the pump is referred to as suction lift. The pressure can be measured from the hydraulic part of the pump's center line down to the water surface on the suction side of the pump.
What is a pump head?
In simple terms, the head of a pump is the maximum height that the pump can achieve when pumping against gravity. In other words, if a pump can produce more pressure, it can pump water higher and produce more heads.
What is pump cavitation?
Cavitation occurs when the liquid in a pump converts to vapors at low pressure. It occurs because there is insufficient pressure at the pump's suction end.
Pumps - Price Range
This data was last updated on 5/24/22.