Related Home Inverter & UPS Article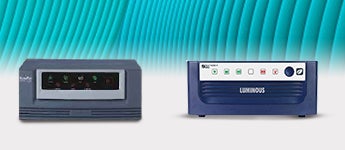 Everything you need to know about inverters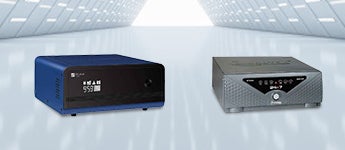 Best Inverter Brands in India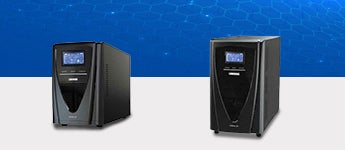 Types of Inverters Based on Their Uses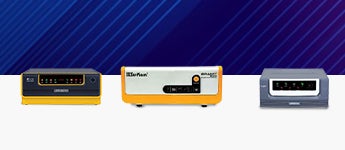 Luminous Inverter Types, Features, and Price List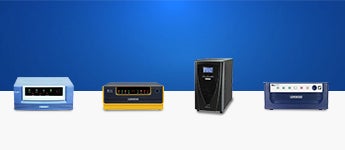 Top Microtek Inverters for Uninterrupted Power Supply
Have Uninterrupted Power Supply with the Best Home Inverters
In the event of a power outage, a home inverter will power the electric appliances. As the name says, an inverter first converts AC to DC to charge the battery and then inverts DC to AC to power the electric devices. An inverter is an essential element of any Indian household. It is far easier to connect and use than a generator and provides power backup if your home experiences frequent power outages.
These days, house inverters have technologies such as Bluetooth connectivity or Wi-Fi connections to make it easier to regulate and keep track of crucial variables such as available backup time. Some house inverters also include unique functions, such as the ability to charge your phone even while the inverter is turned off. Furthermore, some house inverters include solar panels to ensure a consistent source of electricity. We at Moglix provide energy-efficient home inverters & UPS from top brands such as Luminous, Microtek, APC, Su-Kam, and many more.
---
Find the Right Type of Home UPS
Square Wave Inverter - This inverter's voltage output waveform is a square wave. Because all appliances are made for a sine wave supply, this type of inverter is the least used of all the inverter types. Appliances using sine wave technology may be damaged or experience significant losses if we supply square waves to them. Although this inverter is incredibly inexpensive, it only has very limited applicability. Simple tools with a universal motor can use it.
Sine Wave Inverter - The sine wave output of the voltage offers us an output comparable to the utility supply's output. This is the inverter's main benefit because all of the equipment we use is sine wave-compatible. Therefore, this is the ideal result and ensures that the machinery will function as intended. Although more expensive, this kind of inverter is frequently used in home and commercial applications.
Modified Sine Wave - This sort of inverter is more difficult to build than a simple square wave inverter but simpler than a pure sine wave inverter. This inverter's output is neither a square wave nor a pure sine wave. Some of the two square waves are produced as the inverter's output. Although the resulting waveform is not a true sine wave, it does approximate one.
---
Choose the Right Home Inverter by Considering the Following Factors
Power Density - It represents the highest rate of energy released per unit of mass. You should pick a battery with a higher power density.
Durability - Consider choosing a reputable brand that guarantees a longer battery life. It is reliant on the battery's ability to maintain its energy and power densities.
Safety - At high temperatures, some battery parts degrade. As a result, one should pick a battery that can operate more effectively in a warmer environment.
Cost-Effective - Search for batteries that offer good performance at a reasonable price. The battery's performance ought to match its price.
Energy Density - This is the amount of energy that can be kept in a given mass. Battery performance must be energy-efficient.
---
Top Class Brands Selling High-Quality UPS Inverter
Luminous Inverter & UPS - Luminous Home inverters feature better load handling capacity than other UPSs with comparable ratings, allowing them to run more loads. Their UPS supports all battery types, including flat plate, tubular, VRLA, and SMF, allowing you the freedom to select from a variety of batteries. They come with a warranty ensuring the smooth running of the inverters.
Microtek Inverter & UPS - The range of Microtek's UPS output voltage is maintained to guarantee the security of delicate gadgets like PCs. The voltage range is expanded in eco mode, which uses less battery power. The superior microprocessor from Microtek ensures maximum reliability. The Microtek home inverter and UPS is the ideal device for your home. They can be utilized anywhere in the house and are conveniently portable.
APC Inverter & UPS - The APC UPS inverters are an excellent method to keep your house or workplace powered during a power loss. They have a modern style, are dependable, effective, and work with other gadgets. They have automated temperature regulation, which keeps the inverters cool even when used often.
Su-Kam Inverter & UPS - Su-Kam power backups can spare you a lot of hassle because power outages can happen at any time. Amazing home inverters for residential use are Su-Kam home UPS. Their goods may readily power a variety of devices, including fans, laptops, LED TVs, lights, mixer grinders, freezers, and much more. They are portable and small in size. Their inverter's digital display will make straightforward monitoring possible.
Zebronics Inverter & UPS - Zebronics offers its customers simple and long-lasting solutions. These home inverters are made using modern technology to ensure energy efficiency and longevity. They are a dependable source and have a long operating life. Home inverters help you save money because they have better load handling.
We also offer Home UPS from other renowned brands such as APC, Exide, iBall, Pulstron, Intex, Eaton, etc.
---
Buy Energy Efficient Home Inverters at Wholesale Prices
Great-quality home UPS are becoming more and more necessary as a result of their high efficiency and energy saving. To meet this need, Moglix puts a lot of effort into producing high-quality, reliable, and secure UPS inverters. Moglix ensures that only the best home inverter and UPS are shipped and that they comply with all safety regulations before they are delivered to the consumer. Additionally, there are unique offers and enticing discounts available for large orders. To distinguish ourselves from other online firms selling the same products, we keep an eye out for consumer complaints and make an effort to address them quickly. The leading companies' most durable home UPS are available at competitive prices. Shop now to benefit from branded home inverters and wholesale prices.
Frequently Asked Questions about Home Inverter & UPS
---
Which is better for homes, UPS or inverter?
Both UPS and inverter have different uses, both are beneficial in their own way. UPS is generally used to provide power support to particular devices which are connected to them, the power supply may be short-term or long-term depending on the situation. Whereas an inverter is eligible to supply power to a whole home, with maximum output. One can also substitute UPS with an inverter.
Can UPS be used with an inverter?
Yes, one may use UPS with an inverter however during a power cut inverters might not work or work for a very short time. In the case of UPS, it will work only with the devices connected to it. But if you wish to use both UPS and inverter in the same home then you can unplug the UPS and reset the inverter and then the inverter will work.
Top Selling Home Inverter & UPS Price List in India
Home Inverter & UPS - Price Range
This data was last updated on 11/28/22.