Popular Brand Category
hot water storage capacity

cold water storage capacity
Related Water Dispensers Article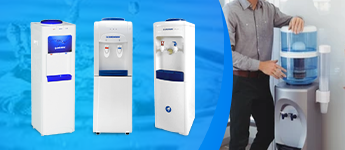 Know All About Water Dispensers
Buy Water Coolers to Drink Purified Water
Water dispenser, as the name suggests, is used to dispense water at your preferred temperature. You can have hot, cold or normal water dispensed instantly. It either dispenses water from a bottle or hooks up directly to a water pipeline saving you from heavy lifting of bottles. In offices, school or industry, where there is huge requirement of drinking water, you need to have this device. In addition to purified water and temperature, a water cooler comes with various other benefits such as
Easy installation with no setup costs
Varied size to suit your need
Simple to use and value for money.
Environment-friendly, stops the use and throw small water bottles.
Ample of drinking water supply.
Saves fuel lost in gas stoves for heating water.
The water machine comes in different capacities such as 40 liters, 60 liters, 120 liters, and so on. These point-of-use water coolers filter water and store it in their tank. A water dispenser majorly has components such as a tank, water heater, refrigerating system, filter, tap, and extended tray for releasing unused water from the tap. This device needs electricity to execute its functions.
Water coolers are easy to maintain and clean. Don't turn them off and keep them filled with water. In case the unit is empty, turn it off to avoid any damage to the machine. Keep the water tap, nob, wire grid and tank clean.
Buy Water Cooler Online at Best Prices
Water forms 70% of our body, it regulates body temperature, intoxicates our body, gives us good skin and much more. Understanding the necessity of water in everyone's life, Moglix offers water dispensers of different type and capacity. We know how harmful impure water can be for your body, so we have water coolers from renowned and trusted brands such as Usha, Voltas, and Kent. Moglix has various other home appliances such as gas stoves, kitchen appliances, washing machines, etc. to simplify and ease your living.
Frequently Asked Questions about Water Dispensers
---
How to choose an effective water dispenser?
Depending on your requirement, determine whether a 3 or 2 tap dispenser works for you. Also, see if the refrigerator cabinet is powerful enough to keep your food preserved for a longer time. When talking about type, design is also an important factor, choose the design type that compliments your place
Does a water dispenser purify water?
No, a water dispenser, as its name implies, is a device that dispenses water.
How does a water cooler work?
Most water dispenser work by having a 5-gallon water bottle upside down on the top of the machine. This allows gravity and vacuum pressure to do the job of filling a glass when someone presses water spigot. When this happens, air is allowed into the bottle so water can escape into your glass or bottle.
Which is better – bottle fed or plumbed in water dispensers?
Main fed machines are water dispensers that are plumbed directly into the main water supply. A main fed machine is also better in workplaces where the workforce is relatively large as bottle fed machines may struggle to cope with large numbers, or you will need more than one.
What type of bottle should I use for my water cooler?
3 or 5 gallon (11.3 or 19 liter) water bottles should be used with this unit.
Top Selling Water Dispensers Price List in India
Water Dispensers - Price Range
This data was last updated on 9/26/22.