Shop More by
Related Generators Article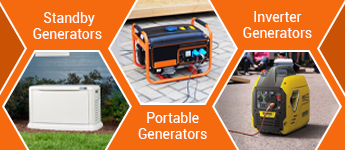 Generators and the Major Types That You Need to Know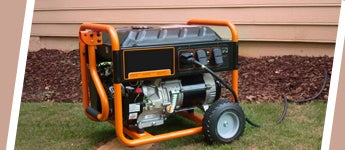 Generators: Basic Kinds and Their Features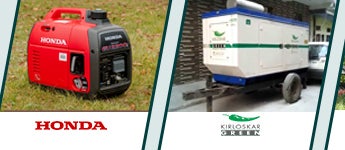 Best Generator Brands Available in India
Generators for Uninterrupted Power Supply
---
Generators are lifesavers in the real world. Generators are an economical option to provide safety and comfort in a medical emergency, a neighborhood, minimize power outage, a week-long camping vacation, or at open stadium festivities. Generators provide to meet the needs of power supply problems regardless of climatic circumstances or power interruptions. Businesses do not have to shut down, and generators can help mitigate any losses during a power outage.
The Evolution of Generators that Created an Impact
---
Michael Faraday invented the first generator in 1831. Since Faraday's experiment with a magnet, cotton, and wires, technology has progressed to the point that there are now many distinct types of generators. Generators produce electricity from fuel sources such as gasoline, natural gas, or solar power, allowing you to power your home, charge your mobile devices, and power key household equipment in the event of an emergency. They're employed for a variety of functions, from outdoor to interior.
Functions of a Generator
---
Generators are power sources that transform fuel (typically propane, diesel, or gasoline) into electricity. During power outages, they are the primary sources of power. This current is employed in a circuit outside of the body. Standby generators, which are permanently deployed in one location, are also available.
General Characteristics of Generators
---
--> Power: Generators with a wide range of power are readily accessible. Both small and large power requirements can be easily handled by selecting an optimum power generator with sufficient power.


--> Fuel: Multiple fuel options such as diesel, petrol, natural gas, LPG, etc., are available for electric generators.


--> Portability: Generators with wheels or handles are available on the market, allowing them to be conveniently moved from one location to another.


--> Noise: Some generator models feature noise reduction technology, storing them near without causing noise pollution.


Common Benefits of Generators
---
Generators are useful for homes, businesses, and offices that are frequently subjected to power outages. They act as a backup, ensuring that household appliances have access to uninterrupted electricity. Generators can be used to power machinery and tools on project sites where there is no electricity. They're also advantageous in the following ways:
--> They are essential during emergencies.


--> They can stand and compensate for the routine power outages.


--> They are the best standby power solutions for businesses.


--> They are in construction, mining, agriculture, wedding, sporting events, fairs and carnivals.
Major Types of Generators and their Features
---
Power generators (Standby generators), portable generators, and Inverter generators are the three basic types of generators. Regardless of their differences, all of these generators require similar generator maintenance to ensure long-term use, as well as similar safety precautions to minimize the risks connected with their operation.
Portable Generators and their Features
---
A portable generator is a type of generator that is portable and lightweight. It is most commonly found with small tires. A portable generator can be either gas-powered or driven by diesel generator engines. A portable generator is in high demand, particularly in households, because it is often compact and can power small home items such as televisions, refrigerators, and air conditioners.
--> They can be used in remote locations.


--> They can efficiently run-on gas or diesel fuel and can provide temporary electrical power.


--> These use an internal combustion engine to conduct electricity. They can be connected to electrical devices or tools via plugs.


--> They have enough power to run a TV, freezer, and refrigerator.


--> They are compatible to operate power tools and lamps.
Power Generators/ Standby Generators and their Attributes
---
As their name implies, standby generators are utilized as a backup in the event of a power outage from the mains or any other primary source of power. These are typically found outside of buildings to offer backup power in the event of a power outage.
--> They work automatically and do not need anyone to start when the power goes off.


--> They provide permanent power protection.


--> They consist of two components: a standby generator and an automatic switch.


--> They can run on liquid propane or natural gas.


--> They can also run on the fuel already in use in the facility or home.


--> These detect the power failure in seconds and switch the power on to feel the power failure for a short time.


--> They are used in elevator safety systems, standby lighting, life support and medical devices, and fire protection systems.
Inverter Generators and their Specifications
---
A generator-powered inverter is known as an inverter generator. This has several benefits, including improved fuel efficiency, less noise, increased life, and cleaner output power for sensitive equipment.
--> High-tech magnets are used.


--> Advanced electronic circuitry is used.


--> To generate electricity, They go through three stages.


--> The AC is first converted to DC, then inverted back to AC here.


--> They maintain a steady current flow to an appliance.


--> They are more energy-saving.


--> With the right equipment, changing the voltage is simple in these.


--> They are incredibly lightweight.
Buy the Best Generators Online
---
You can now shop for these Generators online at comparative prices. You can use filters and sort options that make your shopping much easier with numerous options. You can find the top manufacturers such as Standard Generators, Honda Generators, Cummins Generators, Gas tech Generators, Kirloskar Generators offering the best generators of all times. They are available with various payment methods and doorstep delivery, making your shopping experience at ease.
Frequently Asked Questions about Generators
---
What are the main parts of an electric (diesel) generator?
The main parts used in designing a high-end electric diesel generator, AC Alternator, the Base frame, usually with a tank, Control Panel, maybe with an Automatic Transfer Switch (ATS), and a Circuit Breaker.
Can one run a generator on maximum load?
Yes, it's completely fine to run a generator on maximum load, but it's not recommended. The regular practice of this can reduce the efficiency of generation, as well as the power rating of a generator. The life of the product also includes depreciation.
Top Selling Generators Price List in India
Generators - Price Range
This data was last updated on 9/27/22.