Shop More by
Related Keyboards Article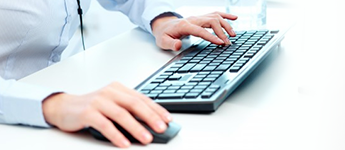 Know More about the keyboards and their best uses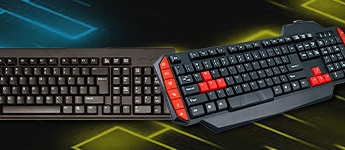 Keyboard types available online as per your requirement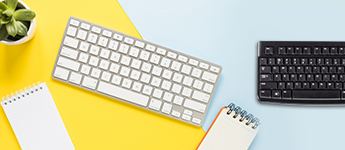 What are the different types of keyboards as per specifications?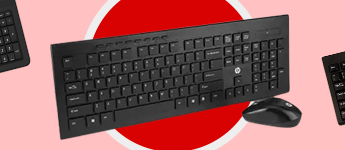 List of keyboard types as per the regional languages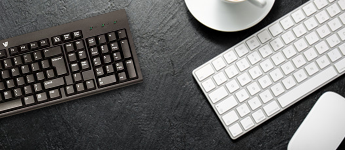 Top Trending Keyboard Brands and Their Price List in 2021
Keyboards for Efficient and EasyTyping
---
When it comes to typing, the most incredible keyboards will make all the difference. It makes little difference whether you spend most of your time at work producing documents and sending emails or whether you spend the remainder of your time playing the finest PC games. A standard keyboard will allow you to text and button-mash just fine, but only the best keyboards will provide a genuinely immersive experience.
So, add one of the best keyboards to your stunning PC setup. They're substantially faster, more precise, and more comfortable to operate. Furthermore, some of them put a lot of consideration into their ergonomics, saving you from a world of wrist, shoulder, and arm pain. As a result, they're a crucial part of the computer setup.
Like other peripherals like the best mouse and monitor, the finest keyboards improve your whole computing experience. Whether you need a gaming keyboard to play the top PC games for hours on end, conduct most of your work on the computer, or simply spend several hours talking with friends, a gaming keyboard is essential. Spend a bit more on a keyboard that is both reliable and enjoyable to use.
Different Types of Computer Keyboards Available in India
---
USB keyboards: These are standard keyboards that are connected to your system using a cable that goes into your computer's USB port. USB keyboards are simple plug-and-play devices that are incredibly dependable.
Gaming keyboards: The physical appearance of this sort of keyboard is its main advantage. The majority of these keyboards have a great appearance. Because most gamers use the W, S, D, A, arrow keys, and space bar frequently while gaming, these keys are highlighted in such keyboards and are immediately recognizable even by a non-technical user.
Wireless keyboards: Portability is one of the main advantages of these keyboards. Typically, a wireless keyboard is powered by batteries and comes with a small dongle. This is the keyboard's wireless receiver. You need to connect the receiver to your computer through a USB.
If you have a secure Wi-Fi connection, then with the help of these keyboards, you can easily type on your PC by sitting far away from the system, say even 50 meters away from it. You can use these keyboards with a PC, laptop, or mobile phone; if they support Wi-fi connectivity.
Multimedia keyboards: This is one of the most common keyboard designs. It's a keyboard with multimedia buttons that allow you to control your media with only one tap. A multimedia keyboard typically has extra buttons or keys such as play, pause, stop, next, previous, volume up, volume down, mute, and a unique button to open your PC's default music player.
Specifications to Consider Before Buying Computer Keyboards
---
The type of job you'll be doing with your keyboard is the first thing you should think about. There are many different computer keyboards on the market today, each with its own set of functionality to meet specific needs. There are keyboards explicitly made for gaming. If you're a dedicated player, you should have one of these. If you need your computer for typing professions that require you to type for lengthy periods, invest in an ergonomic keyboard that will provide you with a pleasant typing experience. If you need to work with numbers, you should acquire a keyboard that includes a numeric keypad.
When purchasing a computer keyboard, make sure the keystrokes are checked first. You don't want to end up with a typewriter-like keyboard on your hands (which will give you a hard time). Examine and try out the keys. There are keyboards with a sensitive, gentle, feather-like touch and others requiring more force to text on.
Nowadays, most keyboards link to computers via USB ports. PS/2 ports are fast becoming outdated. Unlike the plug-and-play USB cord keyboard, wireless keyboards connect to the PC via Bluetooth and are a little more challenging to set up. To use the function keys on most keyboards, you'll need to install some software on your computer. Before you buy a keyboard, be sure it's compatible with your computer.
The keyboard's design and architecture have a significant impact on your computer experience. Standard, gaming, and ergonomic keyboards can be classified based on their design. Choose the one that is tailored to your needs.
Next, you need to also consider the configuration of its functioning type, whether wired or wireless. Whichever type suits your needs must be your priority.
Many keyboards now offer extra function buttons for launching programs, regulating volume, controlling music players, and other activities to help you get things done faster. Power management keys, customized character layouts, and customizable shortcut keys are also included, which can be helpful at times. To replace the mouse, some keyboards have a touchpad or a tiny joystick.
Keyboards are priced differently depending on the features they have. Look for a keyboard that satisfies both your needs and your budget. The more features it offers, the higher the price. Spend wisely and don't buy goods you don't require.
Gaming Keyboards and their Advantages
---
Gaming keyboards are designed specifically for gamers and have extra functions that are uncommon in standard keyboards. RGB backlights, media controls, and programmable keys are among the features. Mechanical switches, which are more durable and responsive than membrane switches, are frequently used. Gaming keyboards can benefit a broad spectrum of users, from high-end dedicated gamers to newbies looking for a competitive advantage.
A gaming keyboard often has full-sized, well-spaced mechanical keys that are comfortable to use for extended periods. Furthermore, the shape of the keyboard is usually designed to fit your hands exactly, allowing you to use it for extended periods without injuring your hands and wrists.
Mechanical keys, rather than membrane keys, are used on the majority of gaming keyboards. The keys on these keyboards are easier to push and don't require as much force as keys on other keyboards. When compared to other keyboards, this implies you can type much faster on them.
If you're playing a game, you'll be able to move your character far more quickly than if you used the other keyboard. You won't get tired while playing because it's easier, and you'll be able to make all of your moves much faster. Milliseconds may make a difference in games, and using a mechanical keyboard can help you earn a few.
The most significant advantage of gaming keyboards is macros. Gaming keyboards frequently include a row or more customizable keys that may do practically anything in your favorite game. This allows you to use these keys in various ways, depending on the game you're playing. Furthermore, if you play several games, you can typically create multiple profiles.
You can automate some of the most crucial and often tiresome operations in your game by developing customized macros. These tasks will not only make it easier to play, but they may also provide you with the edge you need when facing the most difficult bosses or other players.
While this does not apply to every gaming keyboard on the market, many gaming keyboards do come with specialized control pads on the left side of the keyboard. These controls make a custom control pad out of the WASD keys and the keys around them. These custom keys make controlling your characters in-game a lot easier. When you have more control over your game, you will have a faster response time. That means you'll be quicker to the draw whether you're playing your favorite PC game versus the AI or another human.
Backlights on keyboards, particularly gaming keyboards, are frequently multicolored and can be customized. They simply look cool, which makes gaming much more enjoyable. Backlights, on the other hand, have a purpose. Backlights allow you to play in a variety of lighting conditions.
Why buy Computer Keyboards from Moglix?
---
Your computer's most important accessory is a keyboard. Whether you're working on Excel sheets or playing video games, you'll need the right keyboard to get the job done fast and efficiently. Look through this e-store to find the finest alternative for you within your budget. Top brands such as Zebronics, Logitech, Dell, Quantum, and others provide high-quality items at reasonable prices. Enjoy your shopping experience at your comfort and get the products safely delivered to your doorstep.
Frequently Asked Questions about Keyboards
---
What is the difference between a mechanical keyboard and a normal keyboard?
A mechanical keyboard is different from a normal keyboard. Mechanical keyboards have switches under the keys whereas normal keyboards don't. Mechanical keyboards are more durable, easier to repair, and more customizable. The normal keyboard is also known as a full-size keyboard generally has 104 to 105 keys.
What is the better keyboard position, raised or flat?
For someone regular in typing, it is preferred that they have a flat keyboard surface rather than an angular keyboard. A bit of elevation may result in stress on the wrist which may then lead to injuries. However, if you have your keyboard angled away from you then it would help you improve the ergonomics.
Top Selling Keyboards Price List in India
Keyboards - Price Range
This data was last updated on 9/27/22.