Shop More by
Brand Category
Havels Exhaust Fan

Havels Table Fan

Havels Cooling Fan

Havels Axial Fan

Havels Pedestal Fan
Related Chairs Article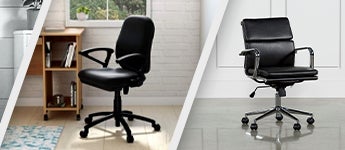 Types and How To Choose a Chair That Suits You The Best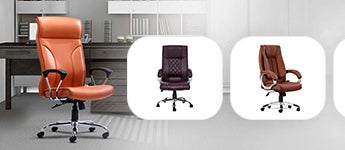 Types of Professional Chairs Available Online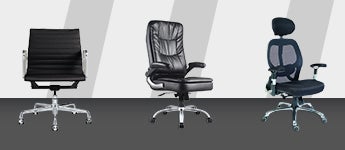 Check out the Types of Commercial Chairs and Their Uses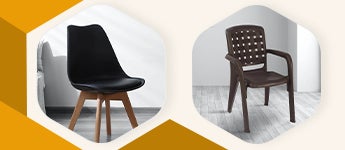 List of Chairs that suits your Home Decor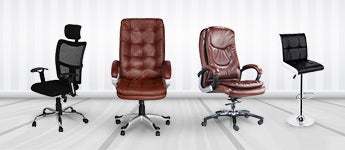 What are the different chair types according to built up?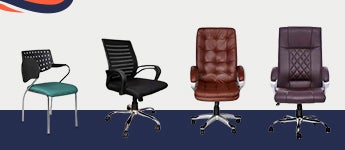 Best Office Chair Brands in India 2021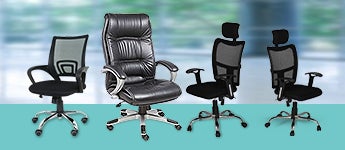 Different Types of Chairs for Your Home
What are Office Chairs and How Important They Are for an Office?
---
Office chairs, or desk chairs, are usually swiveled that has a set of wheels for mobility and has the feature of adjustment of height. Modern chairs usually use a single, unique load-bearing leg, which is located under the chair seat. Near the floor, this leg spreads out into several smaller feet which are often wheeled and called casters.
These chairs were created around the mid-19th century as most of the workers spent their shift sitting at the desk, and the normal chair did not have other features that can be found in office chairs. These chairs are attractive and have a great design, because of this many people use these chairs as living room furniture to enhance the beauty of their living room.
Different Types of Office Chairs Available at Moglix
---
Depending on the work every office has different needs and to fulfill that requirement Moglix has a variety of office chairs for sale which you can buy as per your requirement. Take a look at our comprehensive list to discover the best option for you.
Big and Tall Chairs
---
The standard size chairs do not fill the requirement of everyone. These big and tall chairs are rated for over 250lbs that provide an extra room build for those who need more space. These chairs include heavy-duty construction to ensure long-lasting use and safe support throughout the working day.
Computer Chairs
---
Also known as a task chair, these chairs are specifically designed to be paired with a computer desk. These chairs have a feature of a few ergonomic adjustments to ensure customizable comfort for every user. They mostly have a five-star base that comes with rolling casters to ensure smooth movement in an office setting.
Conference Chairs
---
These chairs are designed to be slightly forward-leaning so as to engage in meetings and discussions. These seating options have usually minimal adjustments feature, as people don't have to be seated for a long duration on these chairs.
Ergonomic Chairs
---
Ergonomic chairs are designed with numerous adjustments so as to fully support many individuals. Some of the key features in these chairs are seat depth, knee tilt, seat height, back height, and lumbar support.
Executive Chairs
---
These executive chairs have a great design and are very nice in their looks. These executive chairs are designed to look extremely impressive, it usually has high backs and has ample cushion which makes it very comfortable. Many people use these executive chairs at home also in their study or as living room furniture to enhance the interior decoration of their home.
Reception Area Chairs
---
These are single person chairs that are typically stationary. These chairs are also known as guest chairs, these seating options have a four-leg base, sled base or cantilever base.
Looking For Comfortable Office Chairs? Check Out the Chairs for Sale at Moglix
---
Do you intend to buy the latest and variety of designs of chairs used at the office? Moglix has all types of office chairs. These chairs have been chosen with care to fulfill the needs of every individual.
Shop Best Office Chairs from Leading Brands at Moglix
---
At Moglix, we deal in a wide range of chairs from popular brands. Some of them are mentioned below
Bluebell Office Chairs- Bluebell chairs that we are offering to include a wide range of models. Bluebell is the World Class manufacturer in India. The chairs that we have of this brand are comprised of comfort, aesthetic and technically advanced chairs.
Divano Modular Office Chairs - The chairs with Divano is in sync with existing quality and standards in the industry. The chairs which we offer are durable and long-lasting. The chairs are elegant, versatile, and bring convenience and styles to consumers. We have some of the best executive chairs of this brand.
Frequently Asked Questions about Chairs
---
Which are the best office chairs for home?
One can choose between Task chairs, Ergonomic chair, and executive chairs based on need and budget. Executive and ergonomics chairs are the most preferable choice.
How should you sit in an office chair?
Before sitting on the chair one must check the technical and feature points to avoid any breakage.
Which office chair is best for back?
High back ergonomic chairs are the best choice for back support with the reason that it applies scientific knowledge and principle of human work environments along with various modifications.
Are high back chairs better?
High back office chair is a preferred choice when one needs to sit for long hours. Chair with lumbar support that is adjustable in different angles and height is recommended for users who suffer with back pain for more comfort.
Chairs - Price Range
This data was last updated on 9/24/21.